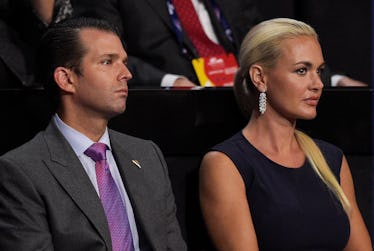 Donald Trump Jr. And His Wife Might Be Getting Divorced, Reports Say
Jeff Swensen/Getty Images News/Getty Images
Rumor has it the eldest Trump heir is facing some marital problems. While nothing has been confirmed by the couple themselves, on March 14 Page Six reported that multiple sources told the publication that Donald Trump Jr. and his wife, Vanessa Trump, are "heading for divorce." So this begs the question, are Donald Trump Jr. and Vanessa divorcing?
UPDATE: On Thursday, March 15, Page Six reported that Vanessa Trump has filed for divorce. Elite Daily reached out to the Trump Organization for comment, but did not hear back at time of publication.
EARLIER: The two, who have been married since Nov. 2005 and have five children, are reportedly on the rocks and have been trying to stay together for the duration of President Donald Trump Sr.'s term in office, according to Page Six. Sources told the publication that problems have supposedly been present in the couple's marriage for some time.
"The problems have been there for a long time, the couple had hoped to stay together during the president's time in office, but it is getting harder to resolve their issues," the sources reportedly said. "He's never there."
So far, however, there has been no confirmation of divorce or separation from either the couple nor their spokespeople. Elite Daily reached out to representatives of Trump Jr. and the Trump Organization for comment, but had not heard back at the time of publication.
While it's impossible to say if these rumors are true, it's safe to say that Donald Trump Jr. has been kept very busy over the past few months. Since he and his younger brother Eric Trump took over running the Trump Organization while their father Donald Trump is in the White House, the eldest son has been traveling quite a bit. Just recently in February he visited India to promote development of Trump-branded apartment buildings.
Sources reportedly say that Trump Jr.'s increased traveling has also been an obstacle for his marriage to Vanessa.
"Donald Jr. has been busy traveling, which has contributed to their problems," sources reportedly told Page Six. "Vanessa is a devoted mother, but she is increasingly lonely and alone in the house with the children."
Vanessa Trump is definitely one of the more low-key members of the Trump family. As opposed to other members, she isn't involved in social media channels such as Twitter or Instagram as much as her extended family. So it's easy to understand that she may not be the biggest fan of all the spotlight on her and her family at the moment. According to sources, she's been uncomfortable with the wide-spread attention facing the Trump family, particularly all the controversy.
"Vanessa is by nature is a very low-key person, and she is uncomfortable with the attention her family is getting now the Trumps are on the world stage," the sources reportedly said. "She is also worried for her kids, particularly after she received the threatening letter containing the white powder."
The "white powder" mentioned by the sources refers to Vanessa Trump's traumatic experience on Feb. 12, where she was taken to the hospital after opening a threatening letter containing some suspicious substances on it. While it was later confirmed that the mysterious material wasn't hazardous, an experience like that has to be a scary time for anyone.
Such a traumatic incident couldn't have helped Vanessa Trump adjust to the extreme spotlight she and her family have been receiving during Donald Trump's presidency.
In response to the incident, Trump Jr. took to Twitter to express his relief that his wife and children were safe.
He wrote,
Thankful that Vanessa & my children are safe and unharmed after the incredibly scary situation that occurred this morning. Truly disgusting that certain individuals choose to express their opposing views with such disturbing behavior.
Trump Jr. also shared the tweet via Instagram on Feb 12.
Vanessa Trump also tweeted about the scare, and thanked the public for their concern.
Who knows whether the couple really is having problems, but may I just say that it's a little unconventional that Donald Trump Jr.'s Instagram post about National Wedding Month was simply to plug some Trump businesses? How romantic.
While I may not be the biggest fan of the Trump family, it's always a shame to hear when marriages are on the rocks. If the rumors are true, well wishes to the couple through their troubles.