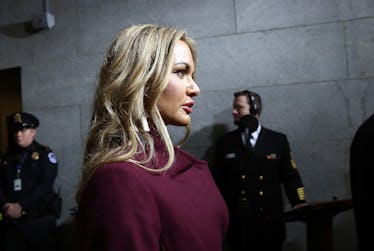 Donald Trump Jr.'s Wife Taken To The Hospital After Getting A Suspicious Letter
Win McNamee/Getty Images News/Getty Images
It's no secret that politicians and the people close to them receive all kinds of weird messages and packages in the mail. You would think events like these would be a thing of the past, but unfortunately, they're not. President Donald Trump's daughter-in law Vanessa Trump was taken to the hospital over a suspicious letter and honestly, I just wish these kinds of things would end.
On Monday, Feb. 12, Trump, who is the wife of the president's eldest son, Donald Trump Jr., was taken to a hospital in New York after she opened a letter that contained a suspicious substance, Politico reported. Though officials ultimately said the matter was nonhazardous, Trump reportedly complained of nausea and was taken to receive medical attention, along with three other people at the residence, for "precautionary measures," Sgt. Lee Jones, a spokesperson for the police department, told the publication.
Following Monday's event, Politico also reported that the Secret Service announced it was investigating a "suspicious package" mailed to an unnamed person it protects in New York, which we can probably assume is Trump. Still, Shawn Holtzclaw, a U.S. Secret Service spokesperson, told the publication, "This is an active investigation and we cannot comment any further."
After the reports surfaced, Trump's husband posted a message on Twitter saying his family was safe, and calling the situation was "disgusting" and "disturbing." He wrote,
Thankful that Vanessa & my children are safe and unharmed after the incredibly scary situation that occurred this morning. Truly disgusting that certain individuals choose to express their opposing views with such disturbing behavior.
Trump's sister-in-law, first daughter Ivanka Trump, also took to her Twitter to share some kind words on the incident. She wrote,
Thinking of @MrsVanessaTrump & wishing I was by her side today. No one deserves to be frightened this way. There is no excuse.
When speaking about the incident in a statement shared with NBC News, President Trump's personal attorney Michael Cohen called it a "dangerous and reckless" act. "How disturbed must a person be to do what they did to a mother of five children?" he said. "This dangerous and reckless act goes beyond political differences."
But it wouldn't be the first time something like this has happened.
Back in March 2016, Eric Trump's wife, Lara, opened a package addressed to her husband that contained a suspicious white powder, which prompted her to contact authorities, according to CBS. It contained a letter that threatened Trump's family would be hurt if the business mogul didn't quit the presidential race. The FBI, local police and Secret Service immediately responded to the incident, and tests later discovered the substance was nonhazardous.
In December 2017, a neighbor of United States Treasure Secretary Steve Mnuchin found a package wrapped in Christmas foil and addressed to the Trump administration official in his driveway. After police were alerted, authorities opened the package and discovered horse manure. They later said the contents of the package weren't hazardous, according to KTLA.
The incident comes on the heels of major plans from the White House.
The incident comes just over a week after President Trump gave his very first State of the Union address in which he discussed his trillion-dollar infrastructure plan, his $25 billion proposal to Congress to build a border wall with Mexico, unemployment rates, the tax bill, plans to defeat ISIS and so much more. In recent days, there have also been several scandals surrounding the president, after President Trump seemingly defended White House staff secretary Rob Porter and speechwriter David Sorensen after they were accused of domestic abuse. (Porter called the allegations against him "slanderous and simply false," while Sorensen denied any acts of violence against women and alleged that it was actually his ex-wife who had been abusive to him.)
Politics can be aggravating, emotional, and even frightening, but it should go without saying that these kinds of threats are not the way to respond. It's never OK to intimidate, threaten or harm anyone — even over something as "simple" as political differences.
It's always disturbing to hear these type of events happen, but the good news is that Trump is at least safe. And with the Secret Service involved and the outpouring support from her family, we can bet they'll get to the bottom of this incident in no time.