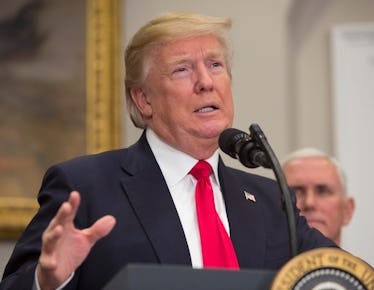 Here's The Thrilling Video Of Trump's First State Of The Union
Pool/Getty Images News/Getty Images
On Tuesday night, Jan. 30, President Donald Trump delivered his very first State of the Union address at 9 p.m. ET, in front of a joint session of Congress. In the speech, he discussed various issues in our country, accompanied by the closest members in his cabinet and his unfiltered monologue. The video of Trump's first State of the Union has emerged online and you can check it out below.
President Trump was expected to discuss his $1.7 trillion infrastructure plan, America's trade policy, the tax bill, and his proposal to Congress for $25 billion to build a border wall with Mexico, according to CBS News. He was also expected to mention his latest exchange offer: a pathway to citizenship for Deferred Action for Childhood Arrivals (DACA) recipients. When speaking to the network on Monday, President Trump seemed thrilled about the address. He said,
It's a big speech and an important speech. Well, I hope it's going to be good. It's going to — we worked on it hard. Cover a lot of territory, including our great success with the markets and with the tax cut.
And after watching his speech, it seemed like he really did work hard on it.
During a background briefing on Friday, on Jan. 26, a senior White House official told reporters the speech would also be "unifying." They said,
If last year was described as optimistic, I think this speech is also optimistic but it's also very unifying. In the sense that it is unifying around the greater opportunities for all Americans as a result of last year's jobs growth and success in the economy.
However, there's one thing that wasn't mentioned in the speech: the investigation into Russian election meddling.
CBS News also asked White House Press Secretary Sarah Huckabee Sanders if the president would revisit the topic, which she pretty much shut down. She said, "I think we've addressed it every single day that we've been here. It's certainly not the thing that keeps people up at night. We'd love to talk about all of the things that do."
But some things can't be ignored.
With dozens of Democrats who skipped the State of the Union, it's possible the president might address that issue. Democratic Reps. Maxine Waters, Pramila Jayapal, John Lewis, Frederica Wilson, and Earl Blumenauer have all said they were skipping the event in protest of things like Trump's recent alleged comments on foreign countries. And Reps. Jackie Speier and Lois Frankel called on attendees to wear black to the State of the Union in support of survivors of sexual harassment or assault. President Trump has been accused of sexual misconduct by multiple women (the official White House position is that Trump's accusers are lying, and Trump has denied knowing his accusers).
It was also suspected the president would address unemployment rates for black Americans during the address. Trump, who has struggled to win support from African Americans, has perpetually boasted about low unemployment rates, which is 6.8 percent for black Americans specifically as of December 2017, according to CNBC.
On Monday, Jan. 29, just a day before the event, Sanders promoted President Trump's strides to close the unemployment gap. She said,
Look, I think you can see from the steps that we've already taken that we're trying to fix unemployment for all Americans. That's the point that the president has made time and time again, is that he wants it to be better for everybody.
And surely, if President Trump has a point that repeatedly falls on deaf ears, we can pretty much expect that he'll address it at the next opportunity — aka the State of the Union.
This year, the president, along with several other lawmakers and politicians invited dozens of guests to the State of the Union. Among the attendees, invited by both sides of the aisle, were DACA recipients, victims of gang violence, a transgender veteran, those rebuilding Puerto Rico after Hurricane Maria, and others.
Whatever the topics were, the event was surely a memorable one for the president, who has had a rocky first year in office, including a tell-all book, widespread criticism from the press, calls for impeachment, a government shutdown, a wave of sexual assault allegations and more. All that being said, he did a great job reading a script.