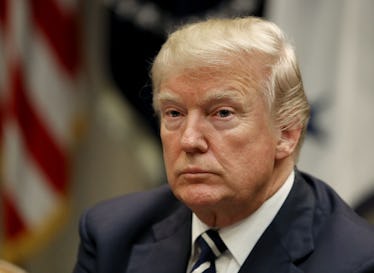 Donald Trump Said He Doesn't Want Immigrants From "Sh*thole" Countries, & WTF
Mark Wilson/Getty Images News/Getty Images
Donald Trump isn't exactly known for his discretion and thoughtful speech. But his latest comment is maybe his most outrageous yet, after Trump called Haiti and African countries "sh*tholes" during a meeting on Jan. 11. The comments came during an attempt to hammer out a bipartisan deal on immigration with members of Congress, according to The New York Times.
UPDATE: Donald Trump tweeted on Friday morning, Jan. 12, that "the language used by me at the DACA meeting was tough, but this was not the language used." Illinois Senator Dick Durbin, who was present for the immigration meeting, said on Friday that Trump did, in fact, use those words.
EARLIER: The meeting was meant to find a deal to protect undocumented immigrants who had arrived in the country as children, but when Trump found out the proposed deal would include protections for people from countries like Haiti and countries in Africa, he reportedly asked why the United States should accept immigrants from what he termed "sh*thole countries." The deal would reportedly have allowed immigrants who had fled disasters in countries like Haiti, El Salvador, and Guatemala to remain in the country, per the Associated Press.
"Why do we want people from Haiti here?" Trump reportedly asked. Instead, he reportedly asked why the United States couldn't get more immigrants from places like Norway instead.
The population of Haiti is 95 percent black, according to the CIA World Fact Book. Norway, by contrast, is 83 percent ethnically Norwegian, with an additional 8 percent listed as "other European."
On social media, people were instantly horrified by the awful comments.
Many people took to Twitter to share their outrage and express that no, the president's words didn't speak for them.
This is far from the first troubling statement that President Trump has made regarding immigration.
In a June 2017 meeting, Trump reportedly said that the 15,000 Haitians who had received visas to enter the United States that year "all [had] AIDS," according to The New York Times. And he spoke of some 40,000 Nigerian immigrants in equally insulting terms, saying that they would "never go back to their huts."
And of course, on the campaign trail in 2015, Trump famously made comments claiming that immigrants from Mexico were all criminals and rapists. "They are bringing drugs. They are bringing crime," he said. "They're rapists. Some, I assume, are good people."
In a statement from the White House, Deputy Press Secretary Raj Shah did not deny the president's remarks. He said,
Certain Washington politicians choose to fight for foreign countries, but President Trump will always fight for the American people. The President will only accept an immigration deal that adequately addresses the visa lottery system and chain migration — two programs that hurt our economy and allow terrorists into our country. Like there nations that have merit-based immigration, President Trump is fighting for permanent solutions that make our country stronger by welcoming those who can contribute to our society, grow our economy, and assimilate into our great nation. He will always reject temporary, weak, and dangerous stopgap measures that threaten the lives of hardworking Americans, and undercut immigrants who seek a better life in the United States through a legal pathway.
Immigration reform was a major issue for Trump on the 2016 campaign trail, and has continued to be so in his presidency.
Trump has made many moves on immigration since taking office, including multiple attempts to institute a travel ban for people coming from majority-Muslim countries entering the United States. The travel ban has seen multiple legal challenges, and has currently been allowed to go into effect while working its way through the courts.
In September, Trump also chose to end Deferred Action for Childhood Arrivals (DACA), an Obama-era program that protected young undocumented immigrants who were brought to the United States as children, allowing them to work and go to school without fear of deportation. One of the purposes of the Jan. 11 meeting was the attempt to find a solution to allow these young immigrants, many of whom have grown up in the United States and never known another country, to stay.
Trump has also spent recent months attempting to convince Congress to fulfill his campaign promise of a border wall with Mexico, attempting to find ways to pay for it, or by attempting to work out a quid-pro-quo on various other pieces of immigration reform.
So, he's done a lot when it comes to immigration. But if today's comments are any evidence, the one thing he maybe should have thought about doing is keeping his mouth shut.