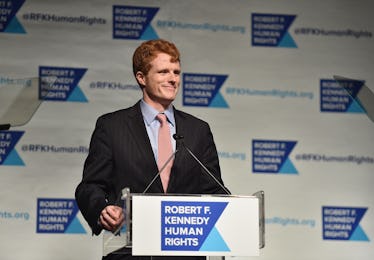 This State Of The Union Guest Is Sending An Important Message To Trump
Mike Coppola/Getty Images Entertainment/Getty Images
President Donald Trump will give his first State of the Union (SOTU) address on Tuesday, Jan. 30, and one unlikely guest will be in the audience to stir up controversy. Representative Joe Kennedy invited Staff Sergeant Patricia King as his SOTU guest. Most people watching the address might be wondering who Joe Kennedy's guest, Patricia King is, and why he brought her to the SOTU.
Patricia King is a transgender woman who has served 19 years in the U.S. Army. She enlisted right after graduating from Cape Cod Tech and has been deployed to Afghanistan three times, according to The Boston Globe. Kennedy is the current chairman of the Transgender Equality Task Force in Congress and helped facilitate military authorization for King's gender reassignment surgery.
"I want her to be there as a real person, and the face of an inhumane policy," Kennedy told The Boston Globe.
In July 2017, Trump tweeted that transgender people could not serve in any capacity in the U.S. military, saying that their "tremendous medical costs and disruption" would be a burden. The future of transgender service in the military is unclear, but federal appeals court are fighting back on Trump's decision. As late as December 2017, a federal appeals court in Virginia rejected a bid by Trump's administration to prevent the U.S. military from accepting transgender recruits starting Jan. 1.
This isn't the first time the government has issued restrictions against transgender military service, but it did come after a step forward for trans service members' rights. In June 2016, the Pentagon, led by Defense Secretary Ash Carter, announced they would end the previous ban on transgender people being able to serve in the U.S. military. In his announcement, Carter said, "Our mission is to defend this country, and we don't want barriers unrelated to a person's qualification to serve preventing us from recruiting or retaining the soldier, sailor, airman or Marine who can best accomplish the mission."
As of October 2016, transgender people were allowed to serve, and less than a year later, Trump announced his re-introduction of the ban.
"I have served for almost 19 years, and all of a sudden, it is all hanging in the balance," King told The Globe.
King, 37, was going through hormone therapy and bodily changes before the Department of Defense lifted the ban 2016, per The Boston Globe. She was still being required to follow the dress code for men, and she noted that her supervisors were supportive of her.
"There are much easier ways to get surgery covered than enlisting in the military, [facing] the possibility of deployment, and dealing with the stigma of being a transgender service member," King further said. "Every one of us who raises our right hand is prepared to give everything in the defense of our country."
King is Kennedy's guest, and Democrat House leaders announced on Thursday, Jan. 25 that Kennedy was chosen to the give the Democrat's rebuttal to Trump's SOTU speech. Kennedy has been outspoken against Trump and will represent all Democratic leaders while delivering the SOTU rebuttal. On Jan. 26, Kennedy tweeted, "From health care to economic justice to civil rights, the Democratic agenda stands in powerful contrast to President Trump's broken promises to American families. Deeply honored to be chosen to deliver the response to the State of the Union next week."
Kennedy's move to bring Staff Sergeant King to the SOTU will likely cause the reaction and buzz that he has hoped for. While some politicians are choosing to skip the address altogether, Kennedy, by way of King, is embodying resistance and defiance by showing face and sitting amongst the audience —the ultimate middle finger to Trump's transgender rhetoric.