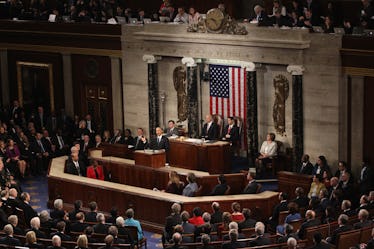 There Are So Many Ways To Watch Trump's First State Of The Union, So Don't Miss Out
Alex Wong/Getty Images News/Getty Images
On Tuesday, Jan. 30, President Donald Trump will deliver his first State of the Union (SOTU) address. The address follows the recent three-day government shutdown, as well as six Democratic leaders announcing that they will not attend Trump's first SOTU. Needless to say, you won't want to miss it. In order to be there for all the action, here's where you can watch the 2018 State of the Union.
The speech is scheduled to begin at 9 p.m. ET, and many networks, as well as cable television, will be providing live streams. For those that are looking to watch the address online, it will be streamed live on C-SPAN and on Twitter. NBC will launch a live stream of the address, as well as a live blog with real-time fact-checking to analyze everything Trump says.
Noticias Telemundo will also be streaming the SOTU at 9 p.m. ET, with simultaneous translation into Spanish. That will be happening live on Noticias Telemundo's site as well as on their Facebook, Twitter, YouTube, and mobile app accounts. José Díaz-Balart will be leading coverage.
Beginning at 8 p.m. ET, NBC News will host coverage of the address via a livestream on YouTube and NBCNews.com. The coverage will be discussing some of Trump's 2017 highlights, viral moments from past addresses, and presidential trivia. NBC will also have an immediate reaction post-address with former White House Communications Director Anthony Scaramucci and a former speechwriter for President Barack Obama, David Litt. CNN will begin coverage at 7 p.m. ET with streaming available on CNN.com's homepage and the CNN app for mobile devices.
If you want to start early, CBSN's live coverage of the State of the Union address begins at 5 p.m. ET. CBS News will broadcast the address live and the Democratic response, done by Rep. Joe Kennedy III from Massachusetts. On Thursday, Jan. 25, top Democratic leaders in Congress announced that Kennedy would be giving the post-address Democratic rebuttal, calling him a "relentless fighter for working Americans."
In a statement on Jan. 26, House Democratic Leader Nancy Pelosi said, "While President Trump has consistently broken his promises to the middle class, Congressman Kennedy profoundly understands the challenges facing hard-working men and women across the country."
The same morning, Kennedy tweeted, "From health care to economic justice to civil rights, the Democratic agenda stands in powerful contrast to President Trump's broken promises to American families. Deeply honored to be chosen to deliver the response to the State of the Union next week. Stay tuned for updates!"
The Democratic rebuttal will be especially interesting this year, considering many Democrat members of the House and Senate are opting out of the SOTU altogether. Five Democrats, including Rep. Earl Blumenauer, Rep. John Lewis, Rep. Maxine Waters, Rep. Frederica Wilson, and Rep. Pramila Jayapal, all publicly announced that they were boycotting the SOTU.
In addition, a group of female Democrats that are members of the Democratic Women's Working Group are wearing black to the State of the Union to show support for #MeToo and #TimesUp. Led by Congresswoman Jackie Speier, the members announced on Jan. 9 and invited other members of Congress to join them.
People are anticipating that Trump will boast about the new Republican tax bill during his speech, while somehow roping in talk about bipartisan push for compromise on certain issues like immigration. Immigration was the central division and catalyst for the recent government shutdown, as Democrats pushed Republicans and the Trump administration to fix legislation for the Deferred Action for Childhood Arrivals program (DACA).
Just Thursday, Jan. 25, the White House announced their framework for immigration reform and border security. Within the framework, up to 1.8 million young people that were brought to the US as children — including DACA recipients — will have a path to citizenship, and some $25 million will be spent on border security for the North and South. You can anticipate that Trump will likely use this framework to promote a DACA-positive agenda, while it's still unclear when his agenda will actually be put into action.