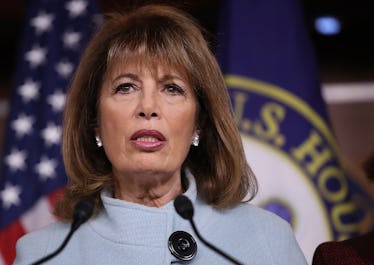 Female Democrats Will Follow Hollywood's Lead & Wear Black To The State Of The Union
Win McNamee/Getty Images News/Getty Images
Nearly every Hollywood A-lister and attendee of the Golden Globe awards showed up in all black to show solidarity with Time's Up, the coalition of women in Hollywood who are breaking the barrier of sexual harassment down with a legal defense fund. To follow suit, a group of female Democrats will wear black to the State of the Union Address on Jan. 30, and they are inviting other members of Congress to do the same. Led by Congresswoman Jackie Speier, the members of the Democratic Women's Working Group announced on Jan. 9 their intention to stand with the #MeToo and #TimesUp movement for President Donald Trump's first State of the Union speech.
"This is a culture change that is sweeping the country, and Congress is embracing it," Speier told NBC News on Jan. 9. Early on Jan. 10, Speier tweeted about the group's plan, urging other members — men and women, Democrats and Republicans — to join their efforts and make a statement against sexual harassment in politics. The tweet read, "My colleagues and I in the @HouseDemWomen are calling on our fellow MoCs - women & men, Democrats & Republicans - to wear black to this year's #SOTU in solidarity w/survivors of sexual harassment/violence in Hollywood, politics, the military, academia, etc."
Since the #MeToo movement infiltrated the Hill, at least six Congressmen have been hit with sexual misconduct allegations, including Rep. Al Franken and Rep. Blake Farenthold, who have both since resigned. (Both Franken and Farenthold denied the allegations.) The president has also been accused by 16 women of sexual harassment. During an October 2017 press conference, Press Secretary Sarah Huckabee Sanders stated that the White House's stance on the allegations is that the women are lying, and Trump himself tweeted that the allegations are "false" and "fabricated stories of women who I don't know and/or have never met."
Also during October 2017, NBC's Meet The Press asked all 21 female senators to share their stories of sexual harassment, and four responded. Democrats Elizabeth Warren, Claire McCaskill, Mazie Hirono, and Heidi Heitkamp came forward about their experiences with sexual misconduct that marked the early years of their careers.
In response to the growing number of allegations, House Speaker Paul Ryan announced in November that members of Congress will have to attend mandatory training on sexual harassment.
The decision to wear all black on Jan. 30 will likely spark controversy among lawmakers since the symbolism of anti-sexual misconduct conflicts directly with President Trump's own accusations, as well as many other congressmen and former congressmen who have lost their jobs over such allegations.
This isn't the first time that female Democrats have made an empowering statement with their clothing. During Trump's first joint address to Congress in February 2017, a large group of members from the Democratic Women's Working Group wore "suffragette white" from the early 20th century women's movement to show solidarity with many women's causes such as Planned Parenthood, affordable health care, equal pay for women, paid family leave, and the protection of reproductive rights.
We've seen a snowball effect with the #MeToo movement, which originated in Hollywood and made its way to Congress, and now members of Congress are extending the symbol of solidarity to the State of the Union address. When the women of the Time's Up initiative, which was signed by over 300 actresses, invited other men and women of Hollywood to join them, they did. Nearly every attendee of the award show showed up in black, and many of the women who spearheaded Time's Up showed up to the Golden Globes accompanied by an activist for the movement.
We can only hope that Congress will have as great of a turnout, and impact, as the Golden Globes did.