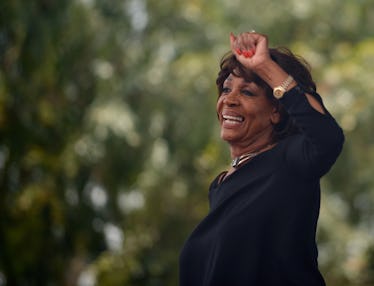 Trump's First State Of The Union Is Getting Boycotted & It's Not A Good Look
Chelsea Guglielmino/Getty Images Entertainment/Getty Images
President Donald Trump's first State of the Union address (SOTU), marking one year into his presidency, is coming up on Jan. 30. The president will give a speech that is addressed to the nation, but is actually recited in the House chamber of the U.S. Capitol to members of Congress, the Supreme Court, and his cabinet. The only thing is, this year, a number of politicians are boycotting the 2018 State Of The Union because of Trump.
The first Democrat (who happens to be the only white politician out of the five who have announced boycotting) to announce was Congressman Earl Blumenauer of Oregon on Jan. 5. In a statement, Blumenauer said, "Rather than listening to another destructive, divisive speech by Trump, I will not attend this year's annual address to Congress. Instead, like I did during his inauguration, I'll be working at home listening to Oregonians about what they think about the State of the Union."
The Georgia Representative John Lewis followed suit on Friday, Jan. 12. Lewis said he was opting out on the SOTU because of Trump's alleged recent comments on "sh*thole countries," in reference to Haiti, El Salvador, and African countries. Lewis, a long-time politician and civil rights activist who marched with Dr. Martin Luther King Jr told MSNBC, "At this junction, I do not plan to attend the State of the Union. I cannot in all good conscience be in a room with what he has said about so many Americans. I just cannot do it. I wouldn't be honest with myself."
Four other Democrats followed Lewis' lead. Just one day later, on Jan. 13, California Rep. Maxine Waters was asked on MSNBC if she would attend, to which she replied, "Oh no! You know I didn't go to the inauguration. Why would I take my time to go and sit and listen to a liar? Someone who lies in the face of facts, someone who can change their tune day in and day out. What does he have to say that I would be interested in? I don't appreciate him and I wouldn't waste my time sitting in that house listening to what he has to say. He does not deserve my attention."
Like a ripple effect, Rep. Frederica Wilson of Florida made an announcement on Jan. 14 that she would not be present for Trump's first SOTU. In her statement, Wilson said, "For the first time since I began serving in the U.S. House of Representatives, I will not be attending the president's State of the Union address. I have no doubts that instead of delivering a message of inclusivity and an agenda that benefits all Americans, President Trump's address will be full of innuendo, empty promises and lies."
Wilson's history with Trump dates back to the publicized argument between the two of them over Trump's phone call with the widow of Sgt. La David Johnson. She also noted that his "recent racist and incendiary remarks about Haiti and African nations" was a contributing factor for her decision not to attend.
The last representative to date that has publicly decided to opt out is Rep. Pramila Jayapal from Washington. On Monday, Jan. 15 (otherwise known as MLK Jr. Day), Jayapal posted a video on Twitter saying, "I'm here on Martin Luther King Jr. Day to say I will not be going to the State of the Union. I think it is absolutely unacceptable to see the racism and the hatred coming out the White House in a way in which this president is fueling the flames of divisiveness across our country."
Jayapal also said that the representatives that will boycott are planning to host their "own SOTU to talk about our opposition to these racist policies that are being put out of the White House and to make sure we put out our own aggressive vision of what our America looks like as we take it back."
The SOTU is five days away, so it's not too late for more politicians to join the boycotters and opt out.