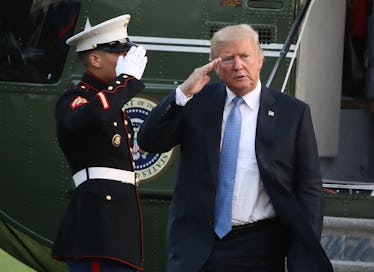 Trump Is Fighting A Congresswoman Over His Call To A Fallen Soldier's Widow & It's Really Classy
Mark Wilson/Getty Images News/Getty Images
President Donald Trump has engaged in a war of words with a Democratic congresswoman over what Trump said to the widow of a soldier recently killed in combat. On Wednesday morning, Oct. 18, Trump tweeted that Rep. Frederica Wilson (FL) "totally fabricated" a statement in which she said the president was insensitive towards the widow. The president wrote,
Democrat Congresswoman totally fabricated what I said to the wife of a soldier who died in action (and I have proof). Sad!
The night before, on Tuesday, Rep. Wilson told CNN Tonight host Don Lemon her version of what the president said in a phone call earlier in the day to Myeisha Johnson, the widow of Sgt. La David Johnson, who died earlier in October alongside three other service members after an ambush of the American soldiers in Niger.
Basically he said, 'Well, I guess he knew what he signed up for, but I guess it still hurt.'
When asked by Miami local news station WPLG whether she was sure the president said those words, Wilson said.
Yeah, he said that. You know ... that is something that you can say in a conversation, but you shouldn't say that to a grieving widow. And everyone knows when you go to war you could possibly not come back alive, but you don't remind a grieving widow of that. That's so insensitive. So insensitive. He should not have said that.
Elite Daily reached out to Rep. Wilson for comment but did not hear back at time of publication.
Footage of Rep. Wilson backing up her claim to WPLG can be seen in the video below:
Rep. Wilson had prior ties with Sgt. Johnson. According to WPLG, he was a member of the 5000 Role Models of Excellence Project mentorship program, which Wilson founded in the Miami area.
Wilson also told the Washington Post she was in a limousine traveling with Myeisha Johnson on Tuesday to meet the remains of Sgt. Johnson at Miami International Airport. The congresswoman says she heard the conversation via speakerphone as President Trump spoke to the widow.
On Wednesday morning, during an appearance on MSNBC's Morning Joe, Rep. Wilson gave further details about the call, saying,
[Myeisha Johnson] was crying the whole time, and when she hung up the phone, she looked at me and said, 'He didn't even remember his name.' That's the hurting part.
Despite President Trump's claims that Rep. Wilson fabricated her account of his phone call with Sgt. Johnson's widow, Johnson's mother told the Washington Post that the congresswoman's version of events were accurate. The mother, Cowanda Jones-Johnson, said,
President Trump did disrespect my son and my daughter and also me and my husband.
Army Sgt. La David Johnson died at 25 years of age on Wednesday, Oct. 4, when he was shot by enemy fire. The attack occurred near the border between Niger and Mali, where up to 50 fighters confronted Sgt. Johnson and the rest of a team of 12 U.S. soldiers. Three other service members died as a result of the attack, all according to CNN. Army Col. Mark Cheadle confirmed that the attack was an unexpected ambush, telling CNN,
This was not expected. Had we anticipated this sort of attack we would have absolutely devoted more resources to it to reduce the risk and that's something we are looking at right now.
The US Army has a presence in Niger in order to provide assistance to the African country's own forces. Col. Cheadle, meanwhile, says the Army will respond to the attack, telling CNN,
We are resolved and stalwart in our efforts to go after those who attacked us.
Sgt. La David Johnson was the father of two children, a 2-year-old son, and a 6-year-old daughter, per WPLG-TV.