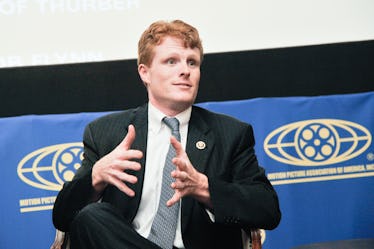 This Is The Democrat Who Will Be Responding To Trump's State Of The Union
Kris Connor/Getty Images Entertainment/Getty Images
On Tuesday, Jan 30, the bulk of the attention devoted to the State of the Union will revolve around President Donald Trump. After his speech, though, there will be another address, the Democratic response. On Thursday night, Jan. 25, Politico reported that the president's opposing party had finally chosen who will give that response: Representative Joseph Kennedy III (D-MA).
Who Is Rep. Kennedy?
Joe Kennedy III is a 37-year-old congressman who represents Massachusetts' fourth congressional district in the House of Representatives. Kennedy has been serving in Congress since 2013, having won his seat during the 2012 election season. Joe Kennedy III is a graduate of Harvard Law School, where he was taught by another Massachusetts Democrat, Senator Elizabeth Warren.
In a statement, House Minority Leader Nancy Pelosi (D-CA) contrasted Rep. Kennedy with President Trump. "While President Trump has consistently broken his promises to the middle class, Congressman Kennedy profoundly understands the challenges facing hardworking men and women across the country," Minority Leader Pelosi said.
Joe Kennedy III is a member of the Kennedy family, the famous political dynasty that has had numerous successes in Massachusetts politics and produced former President John F. Kennedy, also known more simply as JFK.
Former President Kennedy is Joe Kennedy III's great uncle, as is the late former Senator Ted Kennedy, who served in Congress 'til his death from brain cancer in 2009.
Robert "Bobby" Kennedy — the former U.S. Attorney General and brother of JFK and Ted Kennedy — is Joe Kennedy III's grandfather. Bobby Kennedy was assassinated in 1968 while campaigning for the Democratic presidential nomination.
Bobby Kennedy's son is Joe Kennedy II, who served Massachusetts eighth district in the House of Representatives and is the father of Joe Kennedy III.
One of Joe Kennedy III's most prominent moments in Congress came in March 2017, when the Democrat sounded off on Republican efforts to repeal the Affordable Care Act (also known as Obamacare) during a House Energy and Commerce Committee hearing.
I was struck last night by a comment that I heard made by Speaker Ryan, where he called this repeal bill 'an act of mercy.' With all due respect to our speaker, he and I must have read different Scripture ... There is no mercy in a system that makes health care a luxury. There is no mercy in a country that turns their back on those most in need of protection: the elderly, the poor, the sick, and the suffering. There is no mercy in a cold shoulder to the mentally ill. This is not an act of mercy. It is an act of malice.
Joe Kennedy is seen as part of a new generation of Kennedys who continue to engage in public service. Caroline Kennedy, JFK's daughter, served as ambassador to Japan during former President Barack Obama's administration.
Chris Kennedy, Joe Kennedy III's uncle, is running for governor of Illinois.
As for Joe Kennedy III himself, his family history in Massachusetts alone makes him an obvious candidate to watch for a future senatorial seat. During an interview with Politico last September, the congressman said, "Somewhere down the road, if a Senate seat were to open, yeah, it's something I'd certainly take a look at. But that's got to be right in time for me and my family."
Joe Kennedy III won't be the only Democrat providing a response to President Trump's State of the Union address. Elizabeth Guzman, a member of Virginia's House of Delegates, will deliver the Spanish language response.
"In their responses to the President's address, Congressman Kennedy and Virginia Delegate Guzman will both do an excellent job in making clear that Democrats are laser-focused on enacting policies to benefit middle class Americans, not special interests or the wealthiest," Senate Minority Leader Chuck Schumer (D-NY) said in a statement, per Politico.
Whether Kennedy's response on Tuesday receives as much attention as his comments on health care remains to be seen.