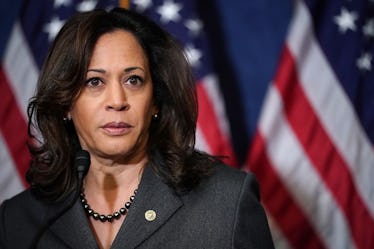 Kamala Harris Is Bringing A Dreamer To The State Of The Union, & It's Pretty Major
Chip Somodevilla/Getty Images News/Getty Images
This year, as many presidents have done before him, Donald Trump will address Congress in his State of the Union address on Tuesday, Jan. 30. There is definitely a lot of action and policy that people are upset with, and many politicians are choosing to use his address to take action. Many have already announced they will be wearing black, or bringing guests to highlight important issues. For example Senator Kamala Harris of California plans to bring her own plus-one, named Denea Joseph. But who is Denea Joseph?
In a Jan. 26 press release, Harris announced she would be attending the State of the Union with Denea Joseph, a Deferred Action for Childhood Arrivals (DACA) recipient and member of UndocuBlack, a network of currently and formerly undocumented Black people. Joseph emigrated to the United States from Belize in 2000 at the age of seven, and was raised in the South Central neighborhood of Los Angeles, which is not uncommon seeing as how California houses more DACA recipients than any other state, per the statement. In response to being Harris's guest, Joseph said in the press release,
I'm grateful to my fellow activists, organizers, and congressional allies like Senator Kamala Harris who continue to champion immigrant rights as human rights. I truly believe that we will win, we will win the fight to ensure that immigrants like myself are equipped with the rights to live and contribute fully. The time is now to pass a Clean Dream Act that doesn't use undocumented youth to criminalize the original 'Dreamers' - our parents and grandparents.
DACA and the Dream Act, the legislative proposal which DACA falls under, have been hot topics of conversation while Trump has been in office, and even more so during the past few weeks.
If you are not familiar, DACA was an President Obama-era immigration policy that allowed for some undocumented immigrants who entered the country as children to receive what's called "deferred action," which means that during a two-year renewable period, those minors, known as Dreamers, are safe from being deported. However, in September 2017, the Trump administration announced it was ending DACA. The move was delayed six months so Congress could attempt to pass legislation to find a permanent solution, but things haven't gone too smoothly. In fact, negotiations on DACA even contributed to the government shutdown.
On Friday, Jan. 19, the government shut down because the Republicans and Democrats found themselves at a standstill over the federal budget planning. The Democrats wanted assurances on DACA, that there would be further discussion on the plan and work immigration into the spending bill, while the Republicans refused to discuss holding talks on the matter until the Democrats released enough votes to pass the budget. On Monday, Jan. 22, the two sides came to an agreement to end the shutdown — temporarily anyway — after Senate Majority Leader Mitch McConnell promised to discuss an immigration bill that would deal with DACA recipients after the shutdown was ended. But many Democrats were unhappy with what they saw as a lukewarm guarantee on DACA.
One of the Democrats upset over the way the shutdown ended was Harris. The senator released a statement explaining that McConnell's "word" was not strong enough and she was not at all confident about the future of the Dreamers. Harris said,
Our government made a promise to our Dreamers and it is long past time that we kept that promise. These are young people who are Americans in every respect except on paper. They have been waiting far too long to live securely in the only place they have ever called home.
It makes perfect sense why Harris would choose to bring Joseph along with her to the State of the Union. In her announcement Harris pointed out just how important this message is to send. She stated,
Dreamers like Denea represent the best of who we are as a nation. Her commitment to the representation and empowerment of black immigrant communities is inspiring. We must continue to fight to give her and the hundreds of thousands of other young people like her who are living in fear, the security they need to live up to their full potential.
There is a lot to talk about at the upcoming State of the Union and our representatives are taking action. At least, if Harris is anything to judge by.