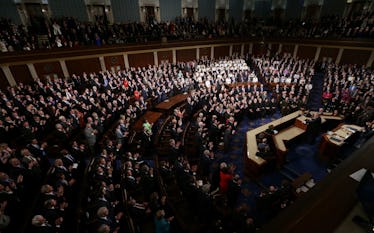 The White House's State Of The Union Guest Represents Trump's Controversial Stances
Alex Wong/Getty Images News/Getty Images
On Jan. 30, President Donald Trump will deliver his first official State of the Union (SOTU) address. In advance of the address on Tuesday, Jan. 30, President Trump announced who would be his invited guest for the big speech: Evelyn Rodriguez. So, who is Evelyn Rodriguez? The president's guest is the Long Island mother of a victim of alleged gang violence.
According to The New York Times, Rodriguez's daughter, 16-year-old Kayla Cuevas, was killed in September 2016. She and her friend Nisa Mickens were among several victims of what authorities report was a spurt of gang violence in Long Island that fall. Four men, who prosecutors allege are members of a transnational gang, MS-13, were charged with the teens' murders in March 2017. The men, who could face the death sentence depending on whether or not the Department of Justice decides to seek it, have pleaded not guilty and are currently awaiting trial. Elite Daily reached out to the court for comment from the men charged but did not hear back by the time of publication. Trump and Attorney General Jeff Sessions visited the Long Island community in 2017, saying that the gang violence was in part due to illegal immigration, the Times reports.
Since the incident, Rodriguez has been an advocate for eliminating gang violence, but she says her attendance is not about immigration.
"I want him to ensure that we're going to get the proper funding for the resources for our kids," she told the Times, referring to Trump. "I'm not here for anybody's political gain. I just want what's right to be done. Everybody should put their political agenda aside and think about what's going on in our country."
Rodriguez symbolizes one of Trump's initiatives of his first year in presidency. In November 2017, Trump announced a major crackdown on gangs, including MS-13, per the Los Angeles Times. Rodriguez will also reportedly meet with Trump prior to the Tuesday, Jan. 30 address. She had been scheduled to meet with Trump in July 2017 during his visit to Long Island, but the meeting never transpired.
Back then, Rodriguez's planned message for Trump was similarly all about financial support. "Stop cutting our funding," she told the Times in July. "The more you cut services, the more our kids are going to be out on the street, getting into mischief. We got to do something. We cannot let this continue."
Rodriguez, a registered Democrat, is not entirely a unique pick for the SOTU address. In fact, this year's invitee is in line with last year's guest list. For his 2017 address to Congress (not formally an SOTU), Trump invited the loved ones of victims killed by undocumented immigrants.
Since Ronald Reagan, per USA Today, it's a tradition for presidents to invite people who symbolize or have been directly affected by a particular issue or policy he aims to highlight during his speech. The president's guests often sit alongside the first lady in her designated gallery box.
Trump isn't the only one who gets to invite special guests. In addition to the Supreme Court Justices, Joint Chiefs of Staff, cabinet members, representatives, senators, and other key players who will be in attendance, every member of Congress is entitled one guest. The president is allowed 24 guests, while the speaker of the House has unlimited invites. For their part, members of Congress often use their designated guests to make a statement.
Last year, some Democrats invited Muslim Americans, undocumented immigrants, and refugees as their special guests to troll Trump over his policies. This year, several members of Congress are planning to bring sexual assault survivors and Dreamers to the House chamber to witness the president's speech. The undocumented immigrants brought to the United States as children, known as Dreamers, rely on the Deferred Action for Childhood Arrivals (DACA) program to allow them to work and live in the country without being deported. Last year, Trump cancelled the program, with the decision taking effect in March of 2018.
There are a few prominent figures who won't be attending the SOTU, though. Several Democratic members of Congress have already announced their intention to boycott the event, while others are planning to wear black. Needless to say, tensions will be high at the president's first SOTU address.