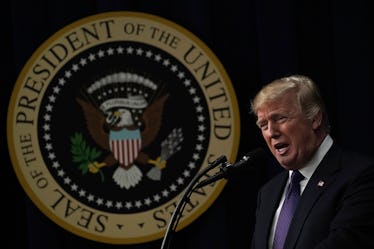 Women Are Wearing Black To The State Of The Union For A Very Important Reason
Alex Wong/Getty Images News/Getty Images
On Tuesday, Jan. 30, President Donald Trump will take the podium for his State of the Union and give a hyped up speech addressing Congress and alerting everyone to how the country is doing and what sorts of things he has planned for us. This year, though, if you happen to tune in you will see that many of the women in the audience will be clad in black. So, you might want to ask, why are women wearing black at the State of the Union? You've seen it before, but not on the political stage.
The idea to wear black to the State of the Union was proposed by Reps. Jackie Speier (D-CA) and Lois Frankel (D-FL), both members of the Democratic Women's Working Group (DWWG), who suggested it to stand in solidarity with survivors of sexual harassment and violence. On Jan. 10, Speier sent out a tweet announcing their choice and urging their fellow members of Congress to join them. It read,
My colleagues and I in the @HouseDemWomen are calling on our fellow MoCs- women & men, Democrats & Republicans to wear black to this year's #SOTU in solidarity w/survivors of sexual harassment/violence in Hollywood, politics, the military, academia, etc. #TIMESUP #MeToo
The idea to wear black echoes the trend put forth during the Golden Globes earlier in January, where male and female celebrities alike donned black in support of women who have spoken out against sexual assault and harassment, and the progression of the #MeToo and Time's Up movements.
In an interview with Elle, Frankel said that they would wear black in support of the movement. She said,
We stand with working people across this country who are demanding that men and women be able to work side-by-side, in dignity, in safety, and free of harassment.
In the Elle interview Frankel also said that wearing black is a statement for equal pay, as well as "more comprehensive policies around sexual harassment prevention and deterrence in not just office, but factories, restaurants, and hotels." In addition, Frankel is using her State of the Union plus-one to bring a survivor of sexual harassment or assault, according to Elle. Frankel said,
I would be disingenuous if I said that what [actresses] did there didn't connect with us, but I will tell you we had discussions about wearing black before the Golden Globes. We want to speak for all people who've been affected by this.
Frankel isn't the only one to use her plus-one in such a way. In another interview with NBC News, Frankel said, "Some members will be bringing survivors of sexual assault and advocates." There was even some speculation that some of those survivors would be women who have accused Trump of sexual misconduct, according to Elle.
In December, members of the DWWG put in a formal request for an investigation into sexual misconduct allegations against Trump. More than a dozen women have accused the president, with the accusations ranging from harassment to assault. The official White House position on these allegations is that the women are lying. Trump also tweeted that he didn't know and had never met the accusers.
Trump, however, isn't the only political figure who has been accused of sexual misconduct. At least six women accused Al Franken, a former senator from Minnesota, of misconduct including groping and improper advances. Franken denied some of the claims and said he remembered others "differently," but still resigned from the Senate in early December. Texas Rep. Blake Farenthold was also accused of sexual harassment by his former communications director, which he denied. Farenthold ended up settling a lawsuit from his accuser, and stated in mid-December that he won't run for reelection.
Also on the list of political figures who resigned over sexual misconduct allegations is Rep. John Conyers (D-Mich.), who stepped down on Dec. 5 over misconduct allegations leveled against him by several women. Conyers said the accusations were "not accurate, they are not true," according to NPR.
Frankel made it clear that many people want to see a harsher approach taken towards Trump on everything from cracking down on his allegations of sexual misconduct to his views on immigration. "Some members will choose not to show up, and that's their statement," said Frankel. "We want to be respectful, and so we chose to make a statement with color."
Regardless of whether you side with Frankel's approach or not, the point is to highlight the idea that no arena is free of sexual assault, harassment or unfair treatment towards women. In short? Things need to change.