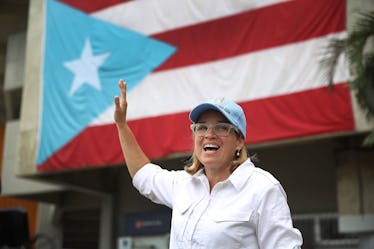 The Puerto Rican Mayor Who Stood Up To Trump Will Be At His First State Of The Union
Joe Raedle/Getty Images News/Getty Images
As the date of President Donald Trump's first State of the Union address has drawn near, several members of Congress have been announcing the people to whom they've offered the one invite that each member is allowed. On Monday, Jan. 29, Senator Kirsten Gillibrand (D-NY) did the same. San Juan Mayor Carmen Yulín Cruz will attend the State of the Union as Gillibrand's guest.
Sen. Gillibrand announced the news via a pair of tweets on Monday morning.
"It is an honor to announce that Mayor @CarmenYulinCruz of San Juan, Puerto Rico will join me at the #SOTU. Throughout the crisis in Puerto Rico, Mayor Cruz has shown extraordinary leadership and fearless advocacy for her city" Sen. Gillibrand tweeted.
In separate post, she added, "I hope Mayor Cruz's presence at #SOTU will remind the president and my colleagues in Congress of our urgent responsibility to help Puerto Rico fully recover and rebuild. Our fellow citizens must not be forgotten or left behind."
Cruz gained national attention last fall after Puerto Rico was impacted by two high-power storms — Hurricanes Irma and Maria. The impact of the storms on the island prompted several nationally televised interviews for Mayor Cruz, during which she not only gave updates on the status of the city she serves but also criticized President Donald Trump.
Mayor Cruz's Feud With President Trump
"Rather than being a commander-in-chief, he's like a hater-in-chief," Mayor Cruz said during a Thursday, Oct. 12, appearance on CNN Tonight. "He continues to tweet his hate all over the place."
Earlier that day, President Trump tweeted about a "lack of accountability" in Puerto Rico, asserting that first responders can't stay on the island "forever."
"We cannot keep FEMA, the Military & the First Responders, who have been amazing (under the most difficult circumstances) in P.R. forever!" the president tweeted.
Weeks before, President Trump directly criticized Mayor Cruz herself.
"The mayor of San Juan, who was very complimentary only a few days ago, has now been told by the Democrats that you must be nasty to Trump," the president tweeted. "Such poor leadership ability by the mayor of San Juan, and others in Puerto Rico, who are not able to get their workers to help ... They want everything to be done for them when it should be a community effort. 10,000 Federal workers now on Island doing a fantastic job."
Why Sen. Gillibrand Chose Mayor Cruz
During a Monday, Jan. 29, appearance on ABC's The View, Sen. Gillibrand further discussed why she'd chosen Mayor Cruz as her invite to the State of the Union address.
"I want to make sure we don't forget about our fellow citizens in Puerto Rico," Sen. Gillibrand said. "If you can imagine for a minute, these families in Puerto Rico are going through some of the worst crises ever. They don't have clean water in some places on these islands. They don't have electricity."
According to a Monday, Jan. 29, report from The Atlantic, around 450,000 of Puerto Rico's 1.5 million electricity customers are still without power. Meanwhile, the Federal Emergency Management Agency (FEMA) has announced it will stop distributing free food and water to the island's 78 mayors at the end of January. According to NPR, FEMA says its internal numbers say only around 1 percent of the island still needs its emergency food and water services.
Sen. Gillibrand's invitation to Mayor Cruz comes just as the clock winds down on yet another short-term funding agreement for the federal government. As the Thursday, Feb. 8, deadline for a new agreement nears, Congress is expected to consider new funding for hurricane relief efforts.