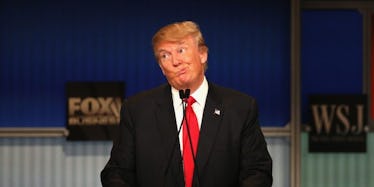 Trump Criticizes Puerto Rico Mayor On Twitter For "Poor Leadership Ability"
Scott Olson/Getty Images
NFL players can breathe a sigh of relief. The president is shifting his Twitter anger from football to Puerto Rico, and lashing out hard at the island's government. Donald Trump tweeted about San Juan's mayor, Carmen Yulín Cruz, criticizing her for "poor leadership ability," and essentially blaming the local government for Puerto Rico's ongoing humanitarian crisis.
On Friday, Sept. 29, Cruz put out a desperate, public plea for Trump's help. She called the current state of Puerto Rico -- following the category 5 Hurricane Maria -- "something close to a genocide." Cruz said during a press conference,
We are dying here. I cannot fathom the thought that the greatest nation in the world cannot figure out the logistics for a small island of 100 miles by 35 miles. So, mayday we are in trouble. So, Mr Trump, I am begging you to take charge and save lives. After all, that is one of the founding principles of the United States of … America. If not, the world will see how we are treated not as second-class citizens but as animals that can be disposed of. Enough is enough.
Trump seemed to take these comments personally. The president logged onto Twitter from his New Jersey golf club (where he is staying for the weekend) to lash out at Cruz, and blame her for the ongoing devastation that Puerto Rico is dealing with.
Shortly after, Cruz took to Twitter and simply reiterated that the current goal is to "save lives."
There continues to be massive food, water and fuel shortages in Puerto Rico. As of Sept. 30, almost half the island's population was without drinking water, according to the U.S. Defense Department. Many are living without power, because the electric grid was damaged by the storm. Cruz noted that Puerto Rico could be without power for six to eight months, and that storm damaged 90 percent of the island's homes.
On Sept. 29, Cruz slammed Homeland Security Secretary Elaine Duke's comments that Puerto Rico's recovery was a "good news story." Duke explained that she was happy with the federal government's response to the catastrophic hurricane, pointing to a "limited amount of deaths."
Cruz told CNN that Hurricane Maria was not, in fact, a "good news story," but rather a "'people are dying' story." She said,
When you're drinking from a creek, it's not a good news story. When you don't have food for a baby, it's not a good news story. When you have to pull people down from buildings -- I'm sorry, that really upsets me and frustrates me. I would ask you (Duke) to come down here and visit the towns and then make a statement like that, because frankly, it is an irresponsible statement in contrast with the statements of support that I have been getting yesterday when I got that call from the White House. Dammit, this is not a good news story. This is a 'people are dying' story. It's a life-or-death story.
Trump has been criticized for his response to the humanitarian crisis in Puerto Rico, with many claiming that he rallied supplies, manpower and resources much more quickly for Hurricane Harvey and Hurricane Irma. After Maria hit down on the island, it took several days for the president to respond publicly. When he did, he threw blame at Puerto Rico.
There's also been a discrepancy between the federal government recovery plan and the reality that Puerto Ricans are currently living. Cruz explained to CNN,
If you register for FEMA on the Internet, you're OK. Well, we don't have any Internet. We barely have phones. We don't have power anywhere... this is not standard operating procedure. Everything has just gone away so you have to improvise.
But if Trump should take one thing away from this?
"We're dying here," Cruz said. "We truly are dying here. And I keep saying it, S.O.S. If anyone can hear us, if Mr. Trump can hear us, let's just get it over with and get the ball rolling."