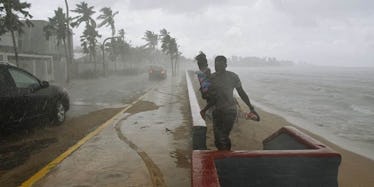 Videos Show Hurricane Maria Hitting Puerto Rico And The Winds Are Really Intense
HECTOR RETAMAL/AFP/Getty Images)
The first Category 4 hurricane to hit Puerto Rico in 85 years made its dreaded arrival on the island on Wednesday morning, Sept. 20. Now, videos of Hurricane Maria hitting Puerto Rico show exactly what that arrival looks like. In short, the storm's 155 mph winds look as intense as meteorologists feared.
Before the arrival of the Maria, CNN meteorologist Derek Van Dam said from the capital San Juan,
This could potentially be the strongest hurricane to ever reach the shores of Puerto Rico. A lot of people remember or have heard of the storms that hit in 1928 and 1930. Well, guess what? This could pale those in comparison... It will go down in the record books.
The island's governor, Ricardo Rosselló, also expressed concern for the scale of the storm ahead its landing. Rosselló told the Associated Press on Tuesday,
This is going to be an extremely violent phenomenon. We have not experienced an event of this magnitude in our modern history.
Hurricane Maria arrived on the southeastern coast of Puerto Rico at around 6:15 a.m. on Wednesday morning, the Washington Post reports. As opposed to Hurricane Irma -- which traveled through Florida via a path that veered away from what a number of meteorologist feared as a worst cast scenario track -- Maria appears to have struck its latest target via the very path that projections indicated it would.
CNN meteorologist Chad Meyers said,
Pretty much right on the money. This thing landed right on the southeastern coast of Puerto Rico... I mean, the American model and the European model both had this landfall like within five miles. I don't think you can get any better than that.
On Wednesday morning, videos broadcasted by various news networks showed exactly what that landfall looked like, complete with shots of reports swaying in the wind at the mercy of a hurricane.
Here's some of the footage from Hurricane Maria's arrival in Puerto Rico.
Hurricane Maria's arrival in Puerto Rico comes just days after the island was hit by Hurricane Irma, which left significant damage on the island. After Irma hit the island, 1.5 million customers were initially left without electricity, while about 70,000 still don't have power, according to CNBC.
Tammy Sueiras, a resident of Puerto Rico, told NBC News.
We already had years ahead of us to recover from the first one [Hurricane Irma] and now we have to pick up the broken pieces to try to protect what's left. I think that some people are in disbelief, a lot of people haven't even been able to process what just happened less than 2 weeks ago and it's happening all over again
The last time a Category 4 hurricane hit Puerto Rico was 1932, per the Washington Post.
A day before Maria made its impact on Puerto Rico, the storm battered the island of Dominica at Category 5 strength. While the storm was hitting Dominica -- and before lines of communication on the island had been cut off by the storm -- the island's prime minister sent a Facebook post indicated widespread devastation for residents.
Prime Minister Roosevelt Skerrit wrote,
Initial reports are of widespread devastation. So far we have lost all what money can buy and replace. My greatest fear for the morning is that we will wake to news of serious physical injury and possible deaths as a result of likely landslides triggered by persistent rains.
Projections current indicate that Hurricane Maria will eventually travel east of Florida and the Carolinas, which look likely to avoid a direct hit from yet another storm traveling from the Caribbean. As for Puerto Rico, residents will be hoping for the best just as the storm looks to be bringing the worst.