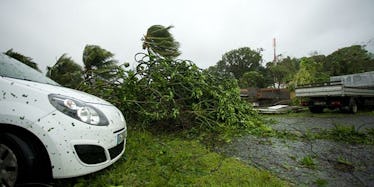 Hurricane Maria Left "Mind Boggling" Damage In The Caribbean And Vids Are Scary
CEDRIK-ISHAM CALVADOS/AFP/Getty Images
After making landfall as a Category 5 storm, even the videos of Hurricane Maria don't show the worst impact it made as it battered the Caribbean overnight. That's because Maria was so powerful -- with maximum wind speeds at 160 mph -- that it resulted in communication lines being cut off in Dominica, the island which suffered "widespread devastation" as the result of a direct hit, its prime minister said. The prime minister, Roosevelt Skerrit, wrote in a Facebook post:
Initial reports are of widespread devastation. So far we have lost all what money can buy and replace. My greatest fear for the morning is that we will wake to news of serious physical injury and possible deaths as a result of likely landslides triggered by persistent rains.
Later in the post, the prime minister added,
I am honestly not preoccupied with physical damage at this time, because it is devastating... indeed, mind boggling.
Dominica, which has a population upwards of 70,000, was hit by Maria's eye in the early hours of Tuesday morning, Sept. 19, local time. The day before, the storm had quickly transformed from a Category 1 hurricane to Category 5 in the span of 24 hours.
A Dominica-based journalist told the BBC as the storm began to hit the island,
We still don't know what the impact is going to be when this is all over. But what I can say it does not look good for Dominica as we speak.
The footage of Maria hitting neighboring islands, like Guadeloupe, don't look good either.
Here are some videos showing Maria's impact on the Caribbean:
In his Facebook post, Dominica's prime minister pleaded for assistance from "friendly nations," whom the leader says will be needed in the aftermath of the storm.
The prime minister wrote,
It is too early to speak of the condition of the air and seaports, but I suspect both will be inoperable for a few days. That is why I am eager now to solicit the support of friendly nations and organisations (sic) with helicopter services, for I personally am eager to get up and get around the country to see and determine what's needed.
After passing over Dominica, Hurricane Maria is now projected to hit the U.S. Virgin Islands and Puerto Rico around Wednesday night, the National Hurricane Center said. President Donald Trump has declared state of emergencies for both territories.
Maria had been downgraded from a Category 5 storm to Category 4 after making its first landfall, but had regained Category 5 strength at around 5 a.m. on Tuesday morning, the New York Times reports.
Maria would be yet another powerful hurricane to make an impact on Puerto Rico in short succession, after Hurricane Irma caused devastation throughout the Caribbean and Florida not too long ago.
The threat of Maria also comes as another storm is poses danger to the mainland U.S., albeit to a much lesser degree. Hurricane Jose, which is traveling of the coast of the eastern U.S. coast, is now threatening to cause coastal flooding and heavy rainfalls this week.
Last week, however, there had been much larger concerns that the storm could make a heavier impact upon east coast states.
In addition to Puerto Rico and the U.S. Virgin Islands, Hurricane Maria is also projects to cause effects in other Caribbean islands, including Antigua and Barbuda, where Hurricane Irma wreaked havoc.
In the aftermath of Irma, Antigua and Barbuda's ambassador to the United States said, per CNN,
The damage is complete. It's a humanitarian disaster. For the first time in 300 years, there's not a single living person on the island of Barbuda -- a civilization that has existed in that island for close to, over 300 years has now been extinguished.
Residents of other islands in Maria's path will hope they don't face a similar fate.