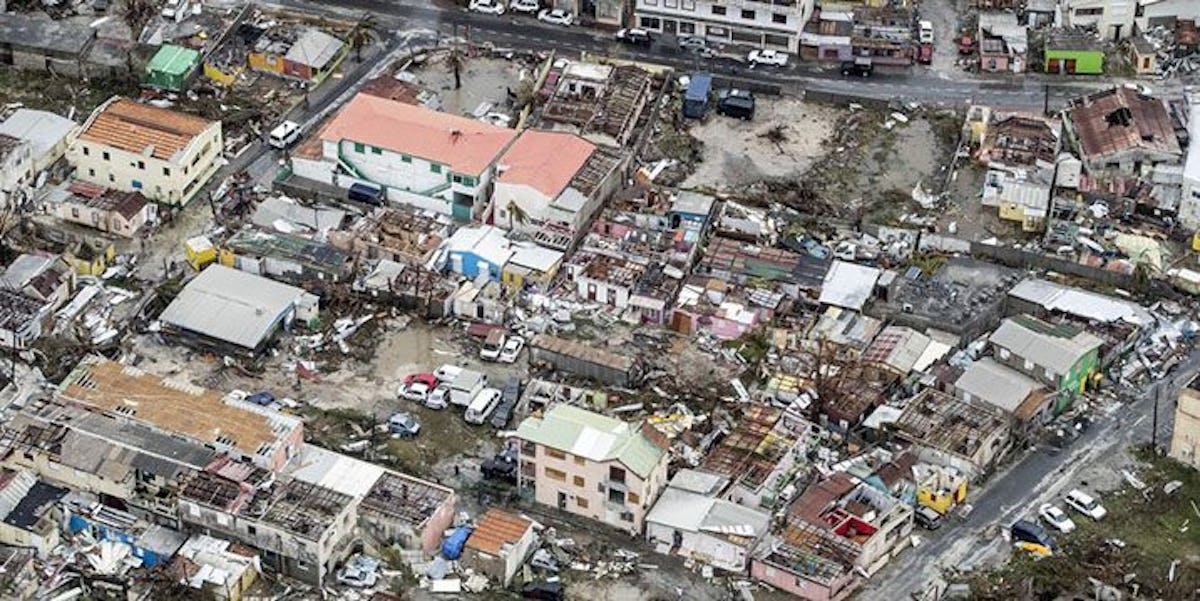 Hurricane Irma Left Major Damage In The Caribbean And The Photos Are Devastating
GERBEN VAN ES/AFP/Getty Images
By Thursday, Sept. 7, Hurricane Irma had already left the first islands where it made landfall. New footage, however, reveals the storm's impact is lasting. With the skies above islands like Barbuda and St. Maarten now safe for aerial photography, photos of Hurricane Irma's damage in the Caribbean now show the extent to which some areas were devastated by the storm.
In Barbuda, around 60 percent of the approximately 1,400 residents on the small island were left homeless, according to the Associated Press. Meanwhile, 95 percent of buildings were damaged in Barbuda -- which is the smaller of the two major islands that make up Antigua and Barbuda -- CNN reports.
Both outlets cited Antigua and Barbuda Prime Minister Gaston Browne as their source. Browne was quoted as saying,
Either they were totally demolished or they would have lost their roof. It is just really a horrendous situation.
In Puerto Rico, nearly 900,000 people were left without power. Meanwhile, 50,000 have been left without water. the U.S. territory's emergency management agency told AP.
Overall, the places where Hurricane Irma struck include Barbuda and Antigua, St. Barthélemy, St. Martin, Anguilla, the British Virgin Islands, parts of Puerto Rico and parts of U.S Virgin Islands.
The projected track of Hurricane Irma's path on Thursday is expected to feature an impact along the northern coats of Hispaniola -- the island split between Haiti and the Dominican Republic. Afterwards, the eye of the storm is projected to swirl between the Bahamas, Cuba, and Turks and Caicos.
Irma will then pose a threat to the mainland U.S. during the weekend, at which point Florida could be impacted by the storm. Past Florida, the storm is projected to decrease in strength but still make impact as far north as the Carolinas.
On Wednesday, North Carolina Gov. Roy Cooper said,
It is not too soon to get ready. Irma is a powerful storm.
Cooper issued a state of emergency for the state. Florida Gov. Rick Scott did the same on Monday.