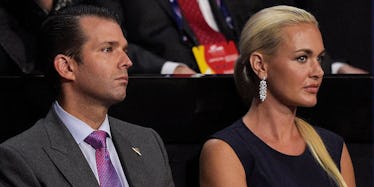 Donald Trump Jr.'s Wife Shows He's Really Following In His Father's Footsteps
Jeff Swensen/Getty Images
The oldest Trump child is currently dominating headlines due to a controversial meeting between Donald Trump Jr. and a Russian lawyer with ties to the Kremlin.
This is largely the first time since the U.S. presidential campaign that Trump Jr. has really become a topic of interest.
He doesn't work in the Trump administration and isn't supposed to be involved in politics, given he's currently overseeing his father's business empire alongside his brother, Eric Trump.
But, now that he's back in the news, many people seem to be more curious about who he is, and who he surrounds himself with.
A good place to start in this regard is with his wife, Vanessa Trump.
Here are five things to know about Vanessa Trump.
She's A Former Model
Trump, 39, was born in New York on December 18, 1977.
She grew up in a townhouse in the Upper East Side of Manhattan, according to The New York Times.
Trump was apparently a tennis star in high school, and her mother, Bonnie Haydon, ran the Kay Models agency. She ultimately became a model and signed with top agency Wilhelmina Models.
When she was 20, she reportedly dated Leonardo DiCaprio.
She's Been Married To Donald Trump Jr. Since 2005
The couple was apparently introduced by Donald Trump Sr. at a fashion show in 2003.
It was a fairly awkward first meeting due to Trump Sr.'s antics (he apparently introduced them twice within five minutes, forgetting he'd done it already), according to The New York Times.
It took a third introduction by a mutual friend at a birthday party in New York six weeks later to get them really talking.
Trump married Don Jr. at Mar-a-Lago, the president's Florida resort, on November 12, 2005.
She and Trump Jr. Have Five Children
Trump and her husband have five children total. Three sons -- Donald John Trump III, Tristan Milos, and Spencer Frederick -- and two daughters -- Kai Madison and Chloe Sophia.
She's A Designer -- And Not Particularly Outspoken On Politics
For a brief time, Trump had her own handbag line, La Poshett. But this reportedly only lasted from 2010 to 2013.
While her husband and father-in-law frequently speak their minds on political issues (one of them is the president, after all), Trump is not especially vocal on politics.
Most of her social media activity pertains to her family, as opposed to the president, who habitually tweets about "FAKE NEWS."