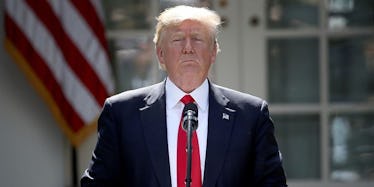 Donald Trump's Latest Tweet Has People Calling For Him To Be Banned
Win McNamee / Getty Images
Donald Trump's policies took a back seat to his latest series of tweets this week, which left people questioning why he hasn't been suspended from the social media site.
The president's most recent attacks focused on CNN, or as he calls it, "FNN," the Fake News Network.
The video, which has left Twitter horrified, used the hashtags #FraudNewsCNN and #FNN and appears to be an edited version of a 2007 video showing Trump taking down WWE CEO Vince McMahon. This time, however, McMahon's head is the CNN logo.
It's definitely been an interesting week for the president on social media. After he attacked Morning Joe host Mika Brzezinski on Thursday, she called on the Trump women to speak up about the president's vicious tweets.
And according to a Quinnipiac University poll released on June 29, a majority of Americans would like the president to stop tweeting.
Many are flocking to social media to air their grievances with Trump's offensive remarks — and they're calling for him to be banned from Twitter.
The hashtag #TwitterBanTrump has caught on.
According to Newsday, Twitter's anti-harassment rule reads, "You may not incite or engage in the targeted abuse or harassment of others." William F.B. O'Reilly, author of the article and a consultant to the Republicans, wrote, "Keep in mind that a Twitter suspension is not the same thing as a ban. It's temporary; time in the penalty box."
But Trump doesn't see the need for any type of suspension. The president believes his tweets are fair game, and has taken to Twitter to defend all of his remarks.
Twitter's extensive rules and terms of service indicate what type of behavior is acceptable and what will not be tolerated. The site further states,
In order to protect the experience and safety of people who use Twitter, there are some limitations on the type of content and behavior that we allow. All users must adhere to the policies set forth in the Twitter Rules. Failure to do so may result in the temporary locking and/or permanent suspension of account(s).
First Lady Melania Trump has decided to make cyberbullying one of her main priorities. During the campaign, she said, according to CNN, "We have to find a better way to talk to each other, to disagree with each other, to respect each other."
But when it comes to her husband's statements, she believes he will punch back "10 times harder."