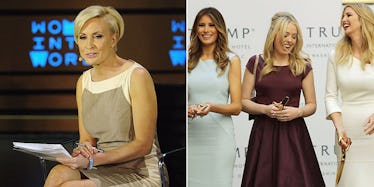 Mika Brzezinski Calls On Trump Women To Speak Up After Donald's Sexist Tweet
Chip Somodevilla/Getty Images
MSNBC host Mika Brzezinski has publicly called for the women closest to Donald Trump to reprimand the president for his rhetoric towards women.
A day after Trump disparagingly commented on Brzezinski's appearance in a tweet, she wrote in the Washington Post,
It is disturbing that the president of the United States keeps up his unrelenting assault on women... We were heartened to hear a number of Republican lawmakers call out Mr. Trump for his offensive words and can only hope that the women who are closest to him will follow their examples.
Brzezinski co-authored the Post op-ed with co-host and fiancee Joe Scarborough, who was also a target of Trump's tweets on Thursday, June 29.
The message appeared to be a clear signal to women in the White House and, in particular, Melania and Ivanka Trump.
Both Trump women became points of focus after the president posted his tweets about Brzezinski, as media members pointed out the incoherence of his behavior and the first lady's purported mission to combat cyberbullying.
Meanwhile, there were calls for Ivanka Trump to respond to her father's tweets, particularly with consideration of her past comments about the importance of women's empowerment.
On that very subject, Brzezinski and Scarborough's joint article read,
It would be the height of hypocrisy to claim the mantle of women's empowerment while allowing a family member to continue such abusive conduct.
Despite the calls for women close to Trump to respond in a way similar to Republicans who criticized the president's tweets about Brzezinski, however, there already have been reactions from women in the White House.
When asked about the president's tweets, deputy White House press secretary Sarah Huckabee Sanders told reporters during a press briefing,
I think the American people elected somebody who's tough, who's smart, and who's a fighter, and that's Donald Trump.
Meanwhile, the first lady's communications director defended the president's tweets and Melania's stance on the issue, saying,
As First Lady has stated publicly... when her husband gets attacked, he will punch back 10 times harder.
Safe to say, neither Ivanka nor Melania Trump have any plans to answer Brzezinski's call to speak against the president's words.