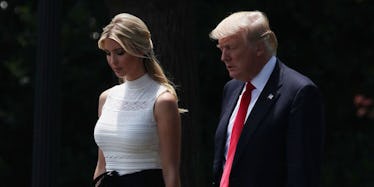 People Are Calling On Ivanka Trump To Respond To Her Father's Sexist Tweet
Mark Wilson/Getty Images
Ivanka Trump set herself up as the person fighting for women in the White House.
So people are wondering about Trump's comment on Donald Trump's tweet about Morning Joe host Mika Brzezinksi.
On the morning of June 29, the president tweeted about Brzezinski's appearance, saying that she "was bleeding badly from a face-lift" when she was apparently at his Mar-a-Lago resort in Florida "around New Year's Eve."
Many immediately noted that Donald Trump's tweet was pretty sexist, given that he was commenting on a woman's appearance while discussing her work, or something like that.
Ivanka Trump, meanwhile, has positioned herself as the feminist in the room, ready to stand up for women. So in this instance, once again, people are wondering where exactly she is at.
In asking where Trump's response is to her father's brutal tweet, many people are reminding her of her comments about the culture in Washington D.C.
Just a few weeks ago, Trump said in an interview with Fox & Friends that since her father entered the White House, she's been surprised by the "level of viciousness." Yeah, this comment is coming back to haunt her in the face of her father's latest tweetstorm.
Meanwhile, people are reminding Trump of comments she has made about her father's feelings for women. Almost exactly a year ago, for instance, Trump said that her father "is a feminist."
Just this past April, even, Trump spoke about her father's support for women while at a summit in Germany alongside Chancellor Angela Merkel. When she defended her father, saying that he empowers women, the crowd literally booed her.
At this point, the public pretty much expects that Trump will not speak up in the way she said she would. She's been criticized for a lot of talk but little walk on issues such as LGBTQ+ rights, women's health, and equal pay.
As of publication time, Trump has not responded to her father's tweet about Brzezinski. I'm not holding my breath.
Elite Daily reached out to the White House for comment from Ivanka Trump, but did not hear back at time of publication.