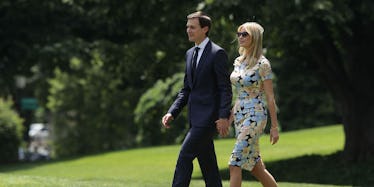 Ivanka Trump Speaks About Husband Kushner's Involvement In White House Drama
Alex Wong/Getty Images
Ivanka Trump, first daughter and unpaid employee in the White House, sat down for an interview with Fox & Friends on Monday morning.
During the interview, Trump spoke about the various controversies surrounding her father's administration, what it's been like to work in the White House, and rumors surrounding her husband, White House Senior Advisor Jared Kushner.
When questioned about former FBI Director James Comey's testimony before Congress, the first daughter said her father felt "very vindicated" and "optimistic" about how it went.
"We are really focused on why the American people elected Donald Trump as their president," she added.
Trump also said,
It is hard and there is a level of viciousness that I was not expecting. I was not expecting the intensity of this experience. But this isn't supposed to be easy. I think some of the distractions and some of the ferocity I was a little blindsided by on a personal level. But for me, I'm trying to keep my head down, not listen to the noise and just work really hard to make a positive impact in the lives of many people.
It's interesting that Trump, whose father is a consistently confrontational individual (especially on Twitter), said she's been "blindsided" by "the distractions" and "ferocity" since she's moved to Washington D.C.
This might help explain why a lot of people weren't exactly sympathetic with the first daughter about the "viciousness" she's experienced.
Trump also addressed reports of infighting in the White House between Kushner and other staffers.
The first daughter said,
There is 24-hour news cycle that gets fed by and is encouraged by lots of salacious details. At the end of the day, we are all focused on the work. And that's very true for Jared. You know, he is somebody who just likes to get things done. So he doesn't get involved in sort of all of that.
It's a little hard to believe that everyone in the Trump administration is completely focused "on the work," especially given the president just spent a good portion of the weekend tweeting.