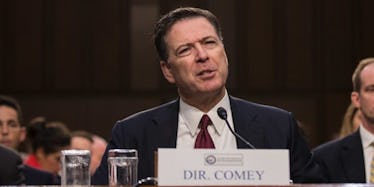 12 Tweets That Explain What We Learned In Comey's Testimony On Trump
Drew Angerer/Getty Images
On Thursday, former FBI Director James Comey testified in front of the Senate Intelligence Committee.
His controversial firing as the FBI director and the ongoing investigation into  the Trump campaign's alleged collusion with Russian interference in the U.S. presidential election were the main focus.
There were a number of startling revelations and strong statements made during the hearing.
The following tweets offer a concise summary of what we learned and what was particularly notable.
Comey began by ripping into Trump, and saying he both defamed him and lied about the FBI.
When asked why he felt the need to document the conversations he had with Trump, Comey essentially stated he felt Trump couldn't be trusted and is dishonest by nature.
Comey confirmed he told Trump was not personally under investigation by the FBI.
There was a confusing exchange between Senator Marco Rubio and Comey at one point, which generated a lot of reactions.
In reference to a tweet Trump sent that claimed he had tapes of their conversations, Comey said he hoped this was true.
Comey admitted to asking a close friend to leak the contents of one of his memos on his interactions with the president to The New York Times in the hopes of getting a special counsel appointed.
Comey pleaded with Americans to recognize the gravity of Russia meddling in a U.S. election.
Comey said he believed he was fired because of the Russia investigation.
Comey quite justifiably refused to offer an interpretation of Trump's tweets.
Senator John McCain succeeded in confusing just about everyone toward the end of the hearing with a series of bizarre and incoherent questions.