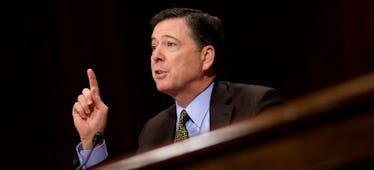 Comey Is Officially Testifying About Russia And The Internet Is Getting Popcorn Ready
Eric Thayer/Getty Images
Former FBI Director James Comey is set to testify in front of the Senate Intelligence Committee on June 8 about the investigation into the Trump campaign's alleged collusion with Russian interference in the U.S. presidential election, CNN reports.
Comey will testify in an open session beginning at 10 am.
People are anxiously awaiting this occasion, given the potential consequences for Donald Trump and his administration.
Comey is reportedly planning to testify Trump asked him to drop the investigation into former National Security Adviser Michael Flynn.
The former FBI director reportedly took notes on his meetings with the president with details of their conversations.
One of these notes, allegedly written by Comey, was recently leaked and it appears to reveal Trump directly asking Comey to kill the Flynn investigation.
Trump reportedly said, "I hope you can see your way clear to letting this go, to letting Flynn go."
Flynn was ultimately forced to resign in February after it was revealed he mislead Vice President Mike Pence and others about his communications with the Russian ambassador to the U.S.
On May 9, Trump fired Comey, which generated a great deal of controversy given he was heading the investigation into the Trump campaign's possible coordination with Russia.
The Trump administration's narrative on Comey's firing has been inconsistent.
Initially, the Trump administration used Comey's mishandling of the investigation into Clinton's use of a private email server as justification for his dismissal.
But, given the strong evidence Comey's actions surrounding the Clinton investigation helped Trump win, many were skeptical about this explanation.
In an interview with NBC's Lester Holt, Trump ultimately said he'd been planning on firing Comey and was thinking about Russia when he made the decision. This contradicted previous statements from his administration.
A separate report also alleges Trump told Russian diplomats firing Comey took "great pressure" off of him in relation to the Russia investigation.
As a consequence of all this, members of Congress have discussed the prospect of impeachment, citing concerns over obstruction of justice.
This is precisely why the news of Comey's planned testimony has people on the edge of their seats.
Citations: Former FBI Director James Comey to testify in Senate June 8 (CNN)