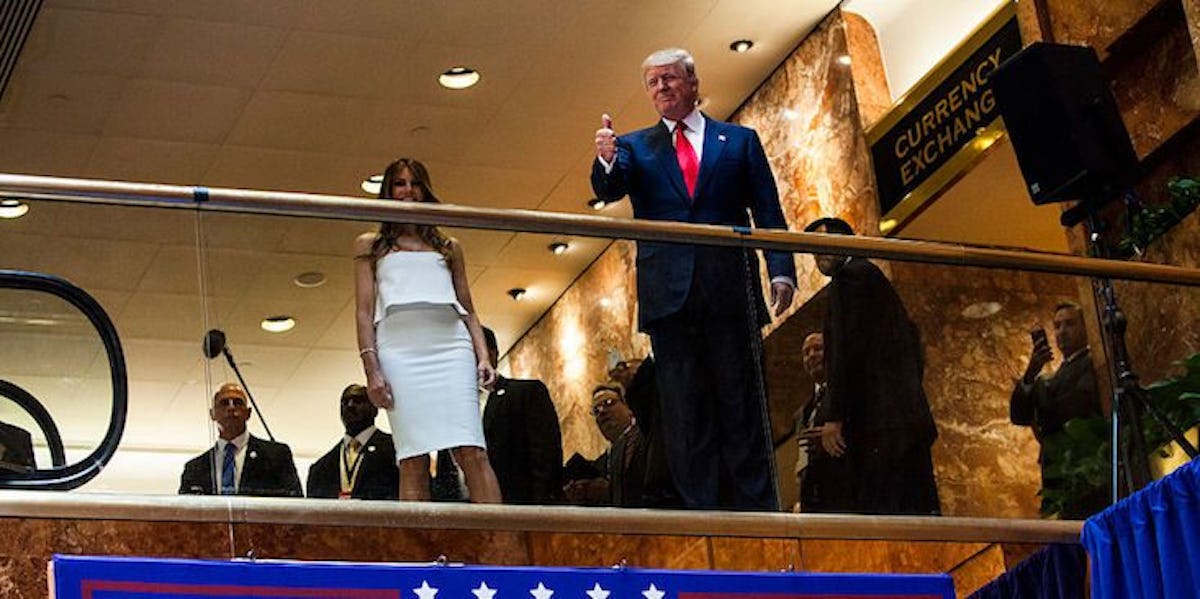 Trump, Who Has A Golden Apartment, Called FBI Director Comey A 'Showboat'
Getty Images
President Donald Trump defended his firing of FBI Director James Comey by referring to him as a "showboat" and "grandstander" during an interview with NBC's Lester Holt on Thursday.
This comes from the same man who, before moving into the White House, lived in a golden tower in the sky.
Trump has lived an incredibly decadent life and consistently made a point of letting people know how wealthy he is.
He's an inherently braggadocious individual who's said things like, "I know words, I have the best words."
So it's fairly hypocritical for a man who's spent a lifetime boasting about how great he is to refer to anyone else in the world as a "showboat."
Trump also completely contradicted statements made by Vice President Mike Pence the day before about Comey's dismissal during his interview with Holt.
On Wednesday, Pence told reporters,
Let me be very clear that the president's decision to accept the recommendation of the deputy attorney general and the attorney general to remove Director Comey as the head of the FBI was based solely and exclusively on his commitment to the best interests of the American people and to ensuring that the FBI has the trust and confidence of the people this nation.
But while speaking with Holt, Trump said he would've fired Comey "regardless of recommendation."
This is yet another contradiction in the Trump administration's narrative on why Comey was let go.
The Trump administration has not provided a coherent message about why Comey was fired.
Many questions have been raised about Comey's ousting, given the White House initially justified it by citing his mishandling of the investigation surrounding Hillary Clinton's use of a private email server.
This was a dubious explanation, given many attribute Trump's victory to the actions Comey took and the negative impact it had on Clinton's image with such a short amount of time before Election Day.
Not to mention, in October, Trump praised Comey for how he handled the Clinton email investigation.
Long story short, over the past 48 hours or so, Trump and other members of his administration have offered a very jumbled explanation as to why Comey was let go, and this issue is not going away anytime soon.
Citations: Trump Interview With Lester Holt: President Asked Comey If He Was Under Investigation (NBC News)