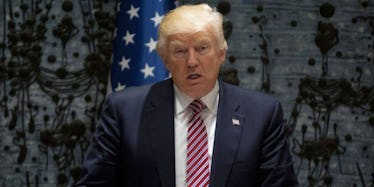 Members Of Congress Who Have Called For President Trump To Be Impeached
Getty Images
It's been a rough couple of weeks for the Trump administration.
Following the controversial firing of FBI Director James Comey, President Donald Trump has been accused of abuse of power and obstruction of justice.
That, combined with a bombshell report that alleged Trump shared highly classified info with Russian diplomats, has put the president in very hot water.
The prospect of impeachment is already being discussed among a number of members of Congress.
Given impeachment can't happen without Congress, this is significant.
With that said, Republicans currently control Congress, so it's arguably very unlikely they would support impeaching a president for their party.
Still, as long as the investigation of the Trump campaign's possible collusion with Russian interference in the U.S. presidential election continues, impeachment will be on people's minds.
Here are members of Congress who've called for impeachment, or discussed the possibility of impeaching President Trump.
Rep. Maxine Waters
No one has been more vocal about impeachment than Rep. Maxine Waters, a Democrat from California.
Rep. Al Green
Rep. Al Green, a Democrat from Texas, recently called for Trump's impeachment on the House floor.
Rep. Yvette Clarke
Rep. Yvette Clarke, a Democrat from New York, recently called for impeaching Trump in a tweet.
Other Democrats have not called for Trump's impeachment so explicitly, but many have discussed it.
Here's a list of the Democrats who've mentioned impeaching Trump so far: California Rep. Jared Huffman, Kentucky Rep. John Yarmuth, Wisconsin Rep. Mark Pocan, Connecticut Sen. Richard Blumenthal, New York Rep. Hakeem Jeffries, Hawaii Rep. Tulsi Gabbard, Minnesota Rep. Keith Ellison, Texas Rep. Joaquin Castro, Maryland Rep. Jamie Raskin, Texas Rep. Shelia Jackson Lee, California Rep. Nanette Diaz Barragán, California Rep. Ted Lieu, Maine Sen. Angus King (an Independent who caucuses with Democrats), Florida Rep. Ted Deutch, Florida Rep. Frederica Wilson, Washington Rep. Pramila Jayapal, New Jersey Rep. Donald Payne Jr., Massachusetts Rep. Stephen Lynch, Tennessee Rep. Steve Cohen, New York Rep. Adriano Espaillat, Maryland Rep. Elijah Cummings, Rhode Island Rep. David Cicilline, Massachusetts Sen. Elizabeth Warren, New York Rep. Jerry Nadler.
This means over 20 Democratic members of Congress have at least entertained the prospect of impeaching Trump.
Two GOP members of Congress have also said Trump may have committed an impeachable offense.
After it was reported Trump asked Comey to drop the investigation into former National Security Adviser Michael Flynn, Rep. Justin Amash of Massachussetts told The Hill's Cristina Marcos it would be grounds for impeachment if the allegation was true.
Rep. Carlos Curbelo, a Republican from Florida, expressed similar sentiments while appearing on CNN.
Curbelo said,
Any effort to stop the federal government from conducting an investigation, any effort to dissuade federal agents from proceeding with an investigation, is very serious and could be construed as obstruction of justice. Obstruction of justice -- in the case of Nixon, in the case of Clinton in the late 90s -- has been considered an impeachable offense.
Only two presidents, Andrew Johnson and Bill Clinton, have been impeached. Both were acquitted in the Senate.
In other words, impeachment is extremely rare. It's also a complex process that's dependent on a number of variables.
It's noteworthy members of both parties are discussing impeachment, but it still does not appear likely to occur anytime in the near future.
This is especially true given there is still no concrete evidence of collusion between the Trump campaign and Russia, as far as we know.
Citations: A running list of Democrats who have discussed impeachment (CNN)