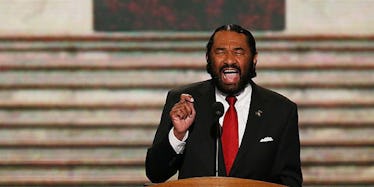 Black Congressman Got Lynching Threats After Calling For Trump's Impeachment
Getty Images
Rep. Al Green recently called for President Donald Trump's impeachment on the House floor in relation to the president's firing of FBI Director James Comey and the chaos that's followed.
Green said he believes Trump has committed obstruction of justice and "no one is above the law, and that includes the president."
Since Green called for President Trump's impeachment, he's received phone calls involving racial slurs and lynching threats, the Washington Post reports.
One caller reportedly said, "Hey, Al Green, we got an impeachment for you. It's going to be yours. Was actually gonna give you a short trial before we hang your n***** ass."
Another caller said,
You're not going to impeach anybody, you f*cking n*****…You'll be hanging from a tree. I didn't see anybody calling for the impeachment of your n***** Obama when he was born in Kenya. He's not even an American. So f*ck you, n*****.
Green, who is black, is a Democrat who represents Texas' 9th Congressional District.
The congressman wanted his constituents to understand "what we're dealing with" and played recordings of the phone calls during a town hall meeting in Houston on Saturday.
Responding to these threats, according to the Houston Chronicle, Green said, "We are not going to be intimidated. We are not going to allow this to cause us to deviate from what we believe to be the right thing to do and that is to proceed with the impeachment of President Trump."
He added,
You cannot allow hate to be hidden. You have to expose hate. Hate is a means by which people can be harmed. It's an evil. The best way to deal with evil is to expose.
Here are the recordings of the calls the congressman received.
It's not clear whether those who called Green will face any consequences.
The language in the phone class Green received was undeniably disturbing and racist, but it's unclear whether police are investigating the phone class, according to the Washington Post.
For a hate crime to occur, an act such as murder, arson, or vandalism must be accompanied by an "added element of bias," according to the FBI's website.
The website also states, "Hate itself is not a crime -- and the FBI is mindful of protecting freedom of speech and other civil liberties."
There are limits to free speech when threats are involved, but this is a very complex issue that even the Supreme Court has struggled with in recent years.
Long story short, the people who threatened Rep. Al Green might get away with it.
Green is not the only Democrat discussing Trump's impeachment.
President Trump fired FBI Director James Comey on May 9.
Initially, the Trump administration said it made the decision to fire Comey based on recommendations from Attorney General Jeff Sessions and Deputy Attorney General Rod J. Rosenstein.
In a memo, Rosenstein cited Comey's mishandling of the investigation of former Secretary of State Hillary Clinton's use of a private email server as grounds for his dismissal.
Many were suspicious of the initial justification, given Comey's actions in that investigation arguably helped Trump win the election.
Moreover, Comey was also in the midst of investigating the Trump administration's alleged collusion with Russian interference in the US presidential election.
Trump put his administration's narrative on the Comey ousting into question when he told NBC's Lester Holt he was going to fire Comey regardless of the recommendation from the deputy attorney general and the attorney general.
On top of this, The New York Times recently reported Trump told Russia firing Comey took "great pressure" off of him because of the investigation, which came not long after it was reported Trump revealed highly classified intel to the Russians as well.
This is more or less the backdrop to Green's call for Trump's impeachment.
A number of other Democrats have also discussed the prospect of impeaching Trump.
But Rep. Maxine Waters and Green have arguably been the most vocal members of Congress on this topic.
Citations: A black congressman called for Trump's impeachment. Lynching threats followed, he said. (The Washington Post)