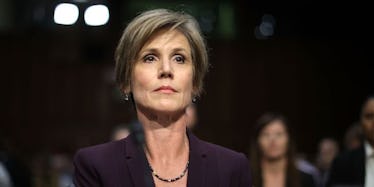 Sally Yates Said Flynn 'Essentially Could Be Blackmailed' By Russia
Getty Images
Former Acting Attorney General Sally Yates testified before a Senate Judiciary subcommittee on Donald Trump, retired Lt. Gen. Michael Flynn and the Trump administration's troubling links with Russia on Monday.
What she said contradicts the Trump administration's version of events regarding Michael Flynn's abrupt and controversial departure from the White House.
Michael Flynn resigned as national security adviser after it was revealed he misled the Trump administration about his communications with the Russian government.
Yates warned the White House about this in late January, several days before she was fired for a separate controversy regarding the president's travel ban.
During her testimony on Monday, Sally Yates said she had two in-person meetings and one phone call with White House Counsel Don McGahn about Flynn.
She explained she told McGahn statements had been made by the vice president to the press about Flynn and Russia that were not correct.
Yates said she also told McGahn the Russians knew this and had proof, which meant Flynn could potentially be blackmailed.
"To state the obvious, you don't want your national security adviser compromised by the Russians." Yates said.
Yates description of the forceful warning she gave to the White House contradictions the Trump administration's version of events that led up to Flynn's resignation.
The White House claimed Yates gave it a "heads up" about Flynn's conversations with a Russian diplomat, but didn't offer information about the content or nature of these discussions.
Based on what Yates said on Monday, this is not true.
In other words, Yates explicitly offered the White House counsel information about the nature of Flynn's communications with Russia, and was highly specific when she warned he could be compromised.
"We told them we were giving them all of this information so they could take action," Yates said.
Yates also said she'd never served as an anonymous source for the press on stories about the Trump administration, which President Trump tweeted about on Monday morning.
Flynn served as national security adviser for 18 days after Yates warned the Trump administration about him.
Former President Barack Obama reportedly warned Trump against hiring Flynn two days after the election in November. Previously, Obama had fired Mr. Flynn as the head of the Defense Intelligence Agency.
Responding to this revelation on Monday afternoon, White House Press Secretary Sean Spicer said, "It's true President Obama made it known he wasn't exactly a fan of Gen. Flynn's."
Earlier in the day, Trump attacked Obama over his relationship to Flynn.
While it is true Flynn received his security clearance from the Obama administration, this does not excuse the Trump administration's failure to properly vet him or heed warnings from Obama and Yates.