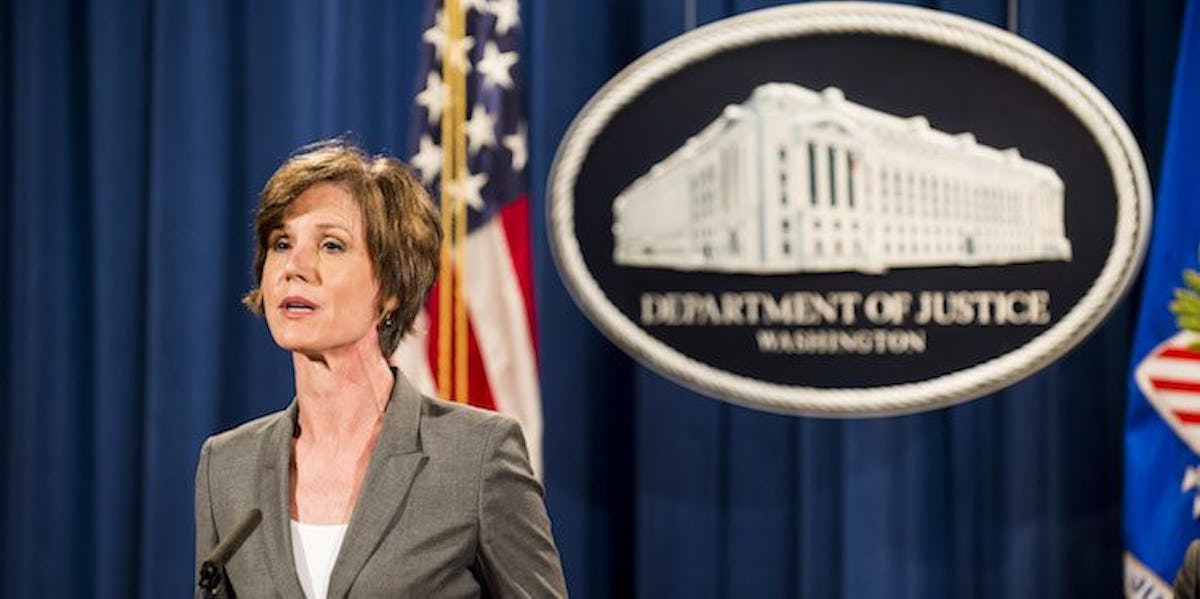 5 Facts About Sally Yates, The AG Trump Fired -- Who Could Bring Him Down
Getty Images
The Trump administration's political drama with Russia will continue on Monday as former Acting Attorney General Sally Yates testifies before a Senate Judiciary subcommittee on Russian interference in the 2016 US presidential election.
Yates became a national hero to progressives in January when she refused to uphold President Trump's controversial travel ban. Consequently, Trump fired her.
Subsequently, when Michael Flynn resigned as national security adviser, it was revealed she'd gone out of her way several weeks before that to warn the Trump administration Flynn had misled it about his communications with Russia prior to entering the White House.
Yates was reportedly worried Flynn could be vulnerable to blackmail by the Russians, given they knew about the communications but the Trump administration didn't.
Her warning to the White House reportedly occurred on January 26.
She is prepared to testify on Monday that she gave a "forceful warning" to the White House, which contradicts its version of what transpired.
On Monday morning, Trump tweeted he hopes Yates is asked about how reporters found out about her warning to the White House during her appearance before the Senate Judiciary subcommittee.
The White House also reportedly attempted to block Yates from testifying in the House's investigation on Trump's campaign and potential links to Russia, which the Trump administration denied.
Sally Yates is now a household name -- and one that will continue to haunt the Trump administration.
Here are five things to know about her.
1. Yates served in the Justice Department for 27 years.
She has strong Georgia roots, and was born in Atlanta in 1960.
Yates attended the University of Georgia both as an undergrad and a law student.
She graduated magna cum laude from law school.
In 1989, Yates became the assistant U.S. attorney for the U.S. Attorney's Office for the Northern District of Georgia.
In 1996, Yates was the lead prosecutor in the case against Olympic bomber Eric Rudolph, who pleaded guilty to bombing Centennial Olympic Park in downtown Atlanta during the Olympic ceremonies.
2. Yates became the first woman US attorney for the Northern District of Georgia in 2010.
In 2010, President Barack Obama appointed Yates to run the US attorney's office for the Northern District of Georgia.
She served there for five years and was the first woman to hold the position.
3. She became deputy US attorney general in 2015.
Yates was confirmed as deputy US attorney general in May 2015.
During her time in this position, Yates oversaw the day-to-day operations of the Justice Department, which made her responsible for 113,000 employees.
She was also intricately involved in criminal justice reform.
Former President Obama granted hundreds of commutations for inmates with nonviolent drug offenses, and Yates was responsible for overseeing the review of clemency petitions.
4. Yates was acting attorney general for just 10 days.
She was fired on January 30.
She defended her defiance of Trump's executive order on legal grounds.
In a letter to Justice Department officials, she said,
At present, I am not convinced that the defense of the executive order is consistent with these responsibilities, nor am I convinced that the executive order is lawful.
5. Yates has a history of taking a stand against public officials, regardless of party.
During her confirmation hearing for deputy attorney general, Jeff Sessions, then a senator and now attorney general, asked Yates,
If the views the president wants to execute are unlawful, should the attorney general or the deputy attorney general say no?
She responded,
I believe the attorney general or deputy attorney general has an obligation to follow the law and Constitution and give their independent legal advice to the president.
In spite of what the Trump administration has said about Yates, it seems she was being honest with Sessions, who, by the way, has been accused of perjury in relation to Russia and his confirmation hearings.
Citations: Sally Yates is about to bring back the Russia story in a big way (CNN), What to know about Sally Yates (CNN), Everything you need to know about former acting Attorney General Sally Yates (ABC News)