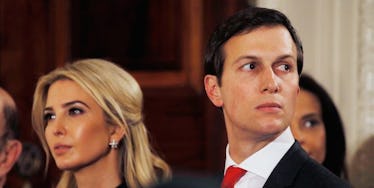 Is Ivanka's Husband Jared A Sketchy Dude? Here's What You Need To Know
REUTERS
Jared Kushner has a lot going on.
The 36-year-old husband of Ivanka Trump and son-in-law of President Donald Trump —  not to mention son of a felonious businessman — is now serving as a senior White House adviser, toeing the line of anti-nepotism laws as he takes on new responsibilities in the administration.
On Monday, March 27, it was announced Kushner will be leading the new Office of American Innovation... and he will be questioned over meetings with Russian officials.
Kushner tends to be a private figure, and it's hard to figure out exactly what's going on with him. Here's what we know:
Kushner will be running a brand-new White House office.
President Trump is going to announce a new agency, the Office of American Innovation, to be led by Kushner. It will tackle issues like veteran care and opioid addiction.
The plan for this agency is to use business ideas to make the government more efficient. It would also potentially privatize some things the government does, handing responsibilities over to businesses.
Obviously it's too early to know what's going to happen, but it does worry some to see the son-in-law of the president involved in something that could generate profits for businesses. We'll see.
Sketchy Meter: 4/10
Kushner will be questioned by the Senate on his meetings with Russians.
The Senate Intelligence Committee is investigating Russia's involvement in the 2016 election. FBI Director James Comey confirmed last week the FBI is also investigating.
News came out on Monday morning saying the Senate will be questioning Kushner as part of their investigation.
Kushner met with Russian Ambassador Sergey Kislyak in early December. This meeting was also attended by Michael Flynn.
Michael Flynn, if you recall, served as Trump's national security adviser for like three minutes before resigning in February. His reason for resigning? Lying about meeting with Russian Ambassador Sergey Kislyak.
Kushner also met with Sergey Gorkov, chief of Vnesheconombank, a bank with close connections to President Vladimir Putin.
White House Spokesperson Hope Hicks insists these meetings were totally normal and that nothing major was discussed. We'll see!
Sketchy Meter: 9/10
Kushner is narrowly avoiding conflicts of interest while serving the White House.
Kushner had to be cleared by the Justice Department in order to take the position as senior White House adviser.
As the son-in-law of the president, questions of nepotism have arisen.
Meanwhile, as a businessman, questions of conflicts of interest have also arisen.
Kushner stepped down from his position at Kushner Companies and as publisher of The Observer, a news site he bought in 2006.
He also said he would divest from things he owns, including The Observer, a venture capital firm, and 666 Fifth Avenue, a property in New York City.
Sketchy Meter: 8/10
That 666 Fifth Avenue property is controversial.
Now we get into some murky New York City real estate business.
Kushner Companies owns a bunch of properties, most of which are in New York; 666 Fifth Avenue (yes, that's it's real address) is its biggest one.
The company bought it — this is real, too — on Kushner's birthday in 2007 for $1.8 billion.
Kushner Companies is negotiating a deal to sell a $400 million stake in 666 Fifth to Anbang Insurance Group, a Chinese company.
Jared Kushner himself was working to put this deal together before Trump's inauguration.
This creates some potential conflicts of interest, as it's international business with the president's son-in-law, who is, himself, supposed to be involved in international relations in his role as senior adviser.
Meanwhile, Anbang itself is super sketchy. Its ownership is really hidden, but seems linked to people who were involved in China's Communist party.
The building is actually part of the Senate investigation. They want to ask if Kushner was trying to get money from the Russian bank for 666 Fifth.
Altogether, this building is a mess.
Sketchy Meter: 9/10
Kushner's father was sent to jail by Chris Christie.
Jared's father, Charles Kushner, was sentenced to two years in jail about 10 years ago.
He pleaded guilty to tax evasion, witness tampering and making illegal campaign donations (can't forget this whole thing with former New Jersey Governor James McGreevey).
Oh yeah, and the case was prosecuted by Christie, who was then the US attorney for New Jersey (Kushner grew up in north Jersey).
Here's what happened: Charles and his brother, Murray, fought a lot. They were constantly suing each other, which led the government to investigate their finances.
Charles' sister, Esther, and her husband were working against him in the investigations. So Charles hired a prostitute to seduce Esther's husband, had their sexual encounter filmed and sent the tape to his sister. Yup.
This all happened while Jared was in law school at NYU.
But when his father landed in jail, he gave up his legal aspirations and went into the family business.
Sketchy Meter: 10/10 for Charles; 3/10 for Jared
Kushner is Jewish and has been criticized for defending Trump from accusations of anti-Semitism.
Trump's campaign was marked by links to anti-Semitism. There was a rise in hate incidents, increase of anti-Semitic attacks on social media and attacks on Jewish reporters.
Trump is supported by neo-Nazis, uses anti-Semitic rhetoric and hired Steve Bannon, who has been linked to anti-Semitism.
The president himself has done less than nothing to defend himself from accusations of anti-Semitism.
Instead, he uses his daughter and Kushner as his bodyguards. Ivanka converted to Judaism to marry Kushner, who was raised Orthodox and attended a Jewish high school.
Ivanka has spoken out against anti-Semitic attacks. And last July, Kushner wrote a piece in The Observer to say his father-in-law doesn't hate Jewish people.
That op-ed came right after Trump used a meme from a white supremacist website to attack Hillary Clinton.
Kushner's grandparents were Holocaust survivors, and it was reported members of his family were super pissed at him for defending Trump's anti-Semitic rhetoric.
One of his cousins wrote on Facebook,
But for the sake of the family name, which may have no meaning to you but still has meaning to others, please don't invoke our grandparents in vain just so you can sleep better at night. It is self serving and disgusting.
Also, Trump told Kushner he's going to be the one to produce peace between Israel and Palestine. Good luck with that!
Sketchy Meter: 5/10 (arguably more icky than sketchy)
Kushner got into Harvard after his father pledged to donate $2.5 million.
This one's pretty simple.
Good ol' Charles Kushner pledged $2.5 million to Harvard in 1998. Then, Jared got in.
A former official at Kushner's high school said,
There was no way anybody in the administrative office of the school thought he would on the merits get into Harvard. His GPA did not warrant it, his SAT scores did not warrant it. We thought for sure, there was no way this was going to happen. Then, lo and behold, Jared was accepted.
LO AND BEHOLD, INDEED.
Sketchy Meter: 3/10 (for being a teenager at the time)
Kushner is known to be very polite and is a good father and husband by all accounts.
But as for everything else in his life? Sketchy.
Citations: Trump to create White House office for 'American Innovation' to be headed by Kushner (TechCrunch), Senate Committee to Question Jared Kushner Over Meetings With Russians (New York Times), Jared Kushner, Trump's Son-in-Law, Is Cleared to Serve as Adviser (New York Times), IVANKA TRUMP AND JARED KUSHNER WILL RESIGN FROM THEIR JOBS, SELL ASSETS (Vanity Fair), Kushners, Trump In-Laws, Weigh $400 Million Deal With Chinese Firm (New York Times), Jared Kushner, a Trump In-Law and Adviser, Chases a Chinese Deal (New York Times), Behind China's Anbang: Empty Offices and Obscure Names (New York Times), The Troubled In-Laws of the 2016 Race (Politico), The Legacy (New York), Trump's son-in-law under fire from family (Politico), Trump to Kushner: If You Can't Produce Middle East Peace, Nobody Can read more: http://www.haaretz.com/us-news/.premium-1.766226 (Haaretz), The Story Behind Jared Kushner's Curious Acceptance into Harvard (ProPublica)