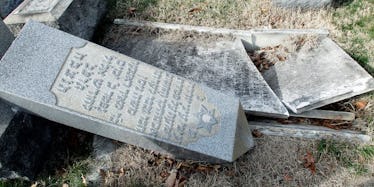 Drone Captures Heartbreaking Damage Done To Vandalized Jewish Cemetery
REUTERS
A Jewish cemetery located in Philadelphia was vandalized after over 100 headstones were found purposely knocked down.
A similar discovery was made after anti-Semitic vandals knocked down 200 gravestones at a Jewish cemetery in St. Louis, Missouri.
Law enforcement also responded to reports of the vandalization of a Jewish cemetery in Rochester. As of now, the FBI is looking to nail those responsible for the heinous, disgusting crimes around the country.
While we've seen a number of photos taken on the grounds of the different cemeteries that were targetted over the last few weeks, we haven't yet seen an aerial shot that highlights the real damage done.
That was until photographer and photojournalist Charles Mostoller decided to send his drone up to assess the damage throughout the Mount Carmel Jewish Cemetery in Philadelphia.
Mostoller shared the heartbreaking photo on Instagram, captioned,
Over 100 gravestones were knocked over this weekend in what police consider an act of anti-Semitic vandalism at the Mount Carmel Jewish Cemetery in Philadephia.
Heartbreaking might be an understatement.
Here's the aerial drone photo captured by photojournalist Charles Mostoller overlooking the Mount Carmel Jewish Cemetery.
Mostoller shared a few other photos from the scene of the senseless crime.
Fortunately, the photographer also ran into volunteers helping catalog the damaged gravestones.
The United States has seen a rise in anti-Semitic hate crimes since President Trump's proposed travel ban back in January.
In an effort to support members of the Jewish community, Muslim activists have been helping to repair gravestones around the country (most notably in Missouri).
A campaign on Launch Good, "a crowdfunding platform focused on the Muslim community worldwide," has raised over $150,000 to help fix the grave sites. The campaign's description reads,
Through this campaign, we hope to send a united message from the Jewish and Muslim communities that there is no place for this type of hate, desecration and violence in America.
If you're interested in helping restore the damage done at the Mount Carmel Jewish Cemetery in Philadelphia, you can donate here.
Citations: Photographer uses drone to capture devastating damage to Jewish cemetery (Mashable)