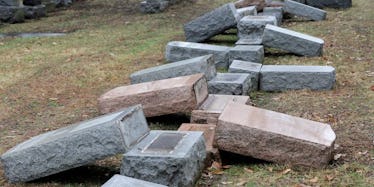 Muslims' Donations For Vandalized Jewish Cemetery Prove America's Already Great
REUTERS
After a Jewish cemetery in St. Louis was vandalized, Muslim activists have come together to raise money to repair it.
As of noon on Wednesday, February 22, Muslims across the country have raised over $74,000.
The page for the campaigns states,
Through this campaign, we hope to send a united message from the Jewish and Muslim communities that there is no place for this type of hate, desecration and violence in America. We pray that this restores a sense of security and peace to the Jewish-American community who has undoubtedly been shaken by this event.
The campaign was spearheaded by activists Linda Sarsour, who was also instrumental in organizing the Women's March, and Tarek El-Messidi.
Speaking with The Washington Post, El-Messidi said he was inspired to start this campaign after he heard the news about Chesed Shel Emeth Society Cemetery in the St. Louis suburb of University City.
It reminded him of a story about the prophet Muhammad in which he stood up for a Jewish funeral procession.
When Muhammad was asked why he did so, he replied, "Is it not a human soul?"
El-Messidi added,
That story goes to show more than anything the humanity of the prophet. We should bring the story to life here and show every person deserves to rest in peace. This is a great way to show respect and honor for our Jewish cousins. This is really a human issue. But out of this horrible election cycle, something beautiful has come out of it and [Muslims and Jews have] bonded together to support each other and stand up to this hate. Politics can get in the way of our basic humanity; I hope this breaks through all those walls, no pun intended, to help bring us closer together.
Muslim and Jewish communities have been targeted with hate crimes since the November election.
Sadly, the vandalization of this Jewish cemetery is but one of many examples of recent discriminatory crimes.
At a time when anti-Semitism and Islamophobia are far too prevalent in the US, this Muslim-led fundraiser is exactly the type of solidarity this country needs.
A woman named Barbara sent a powerful message about this initiative to El-Messidi saying,
You have helped to heal the pain in my heart. I live in Los Angeles but was born and raised in St. Louis. I have family buried in that cemetery and was heartbroken seeing the desecration of the final resting place of some of my loved ones. Your kind and loving spirit gives hope to me that we can have mutual respect and tolerance of our differences and shared humanity. Bless you.
This is more proof that acts of kindness, no matter how large or small, can have a massive and positive impact.
Citations: Women's March Organizer Targeted By Vicious Islamophobic Attacks Online (Huffington Post), 'Every person deserves to rest in peace': American Muslims raising money to repair vandalized Jewish cemetery (The Washington Post)