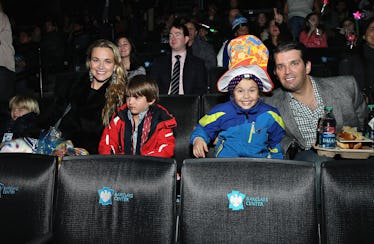 Donald Trump Jr. & Vanessa Trump Have A Traditionally Big Family
Cindy Ord/Getty Images Entertainment/Getty Images
The eldest Trump son and his wife are calling it quits. On Thursday, March 15, Vanessa Trump filed for an "uncontested" divorce from her husband, Donald Trump Jr. The filing means that she does not anticipate any sort of legal battle over assets or the custody of their children. Vanessa and Trump Jr. have a pretty big family, actually. So how many kids do Donald Trump Jr. and Vanessa Trump have? The number apparently runs in the family.
After meeting at a fashion show in 2003, the Trump Jr. and Vanessa tied the knot at the Mar-A-Lago in 2005, and were married for close to 13 years before announcing that they were splitting. The couple has five children together: Kai, 10; Donald III, 9; Tristan, 6; Spencer, 5; and Chloe, 3.
Incidentally, that is the same number of children and the same ratio of boys to girls that Donald Trump has. That's just an interesting fact. I am definitely not saying that that's a really creepy coincidence. But think about it, President Trump has Donald Jr., Eric, Ivanka, Tiffany, and Barron. Five children. Three boys. Two girls. Just saying.
Trump Jr. 's kids are still very young, and most of the contact they have with the public comes directly from Trump Jr.'s social media.
Here's a little family portrait of the Trump kids hanging out in a tree. Color-coordinated and whatnot.
Cute! That's definitely a scrapbook-worthy pic.
But it's not always so sweet.
Last Halloween Trump Jr. tweeted a photo of Chloe, holding a bucket of candy with a rather perturbed look on her face. Why was young Chloe upset? Possibly a foreboding. According to the caption, Daddy Trump Jr. was planning on taking away half her candy to make a political point. The caption read,
I'm going to take half of Chloe's candy tonight & give it to some kid who sat at home. It's never to early to teach her about socialism.
Doesn't every father use his children as political tools? #DadoftheYear. Whatever happened to "sharing is caring?"
Trump Jr.'s Halloween tweet sparked a lot of controversy.
Twitter did not waste any time pointing out the irony in the eldest Trump son, heir of the Trump Organization, calling out people who get things they don't work for.
Even J.K. Rowling got in on it.
Other celebrities also had some words for Trump Jr.
If the type of filing is seen as any indication, the soon-to-be-exes are in agreement about a custody arrangement following their split. Vanessa filed for divorce with the Supreme Court of Manhattan in New York City on Thursday, March 15, a day after Page Six reported that the couple was on the rocks.
In a statement given to Elite Daily, the couple confirms they are divorcing, and it seems like a fairly amicable decision. The statement reads,
After 12 years of marriage, we have decided to go our separate ways. We will always have tremendous respect for each other and our families. We have five beautiful children together and they remain our top priority. We ask for your privacy during this time.
When the news of the divorce sprang up, Page Six swirled some speculation that worry over the children might have been a driving factor in Vanessa filing for divorce. The publication reported that Vanessa is not a fan of all the attention the Trump family has been getting since her father-in-law took office, and is worried about the effect it might have on her children. A source reportedly told the publication,
Vanessa is by nature is a very low-key person, and she is uncomfortable with the attention her family is getting now the Trumps are on the world stage. She is also worried for her kids, particularly after she received the threatening letter containing the white powder.
According to Page Six, Vanessa grew increasingly nervous after the February incident when she was sent to the hospital after opening an piece of mail addressed to Trump Jr. which contained a suspicious letter and white powder. Though the NYPD later reported that the substance was non-hazardous, Vanessa complained of nausea and went to the hospital to be checked out as a precaution. Trump Jr. later tweeted that she was safe, saying that he was "[t]hankful that Vanessa & my children are safe and unharmed after the incredibly scary situation that occurred this morning."
Donald Trump Sr.'s presidency has put the Trump family in the spotlight and with all the negative attention, that can be scary. Of course the Trumps didn't become the Trumps overnight, but there's no way Vanessa could have predicted or prepared for the vortex of terribleness that has surrounded the Trump family since the president decided to dip his toes into political waters. Best of luck to this family as they navigate this split.