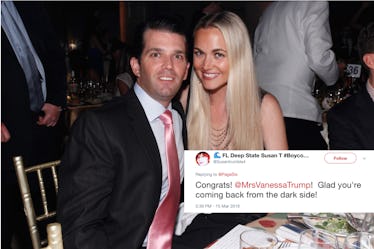 Tweets About Donald Trump Jr. & Vanessa Trump's Divorce Are So, So Brutal
Brian Ach/Getty Images Entertainment/Getty Images
It looks like Vanessa Trump is finished with all the attention, and with her husband. In the latest shocking news, Vanessa Trump reportedly filed for divorce from Donald Trump Jr. on Thursday March 15 at the Manhattan Supreme Court in New York City. But according to these tweets about Donald Trump Jr. and Vanessa Trump's divorce, no one is really all that sympathetic.
UPDATE: In a joint statement shared with Elite Daily, the couple confirms that they are divorcing. The statement reads,
After 12 years of marriage, we have decided to go our separate ways. We will always have tremendous respect for each other and our families. We have five beautiful children together and they remain our top priority. We ask for your privacy during this time.
EARLIER: A day earlier, on March 14, Page Six reported that the Trump Jr. and his wife were having marital problems, and were possibly heading for divorce. A source told Page Six that the couple had been having problems for a long time but were trying to keep from divorcing given Donald Trump's station in the White House. The source said,
The problems have been there for a long time, the couple had hoped to stay together during the president's time in office, but it is getting harder to resolve their issues. He's never there.
The next day, Vanessa reportedly filed for an "uncontested" divorce. That means she does not expect any legal battle over assets or custody of their five children, according to Page Six. Elite Daily reached out to the Trump Organization for comment, but had not heard back at time of publication.
Twitter reacted to the reports — and it was kind of brutal.
Donald Trump Jr. has clearly not earned Twitter's sympathy.
As some pointed out, Trump Jr. himself had not been the most sensitive about divorces in the personal lives of others.
The couple met at a fashion show in 2003, and the story is not exactly the meet-cute some might expect from the heir of a real-estate empire and his model wife. In 2006, Vanessa told The New York Times that it was actually now-President Trump who introduced them. She said,
I'm at this fashion show. Donald Trump comes up to me with his son: 'Hi, I'm Donald Trump. I wanted to introduce you to my son Donald Trump Jr.'
That's normal enough. Except five minutes later, the president returned to introduce his son once again. Vanessa recalled, "Donald comes back up to me again, 'I don't think you've met my son Donald Trump Jr.,'" She responded, "Yeah, we just met, five minutes ago."
Peak awkwardness.
Six weeks later the couple ran into each other again at a party. Forgetting that they had met before, they talked for awhile and suddenly remembered that they had met. 'Wait, you were at that fashion show. Wait, you're "the one with the r*tarded dad!" Vanessa reportedly blurted out.
This is romance, people.
The couple got married in 2005 at the Mar-a-Lago and have five children together.
Though the couple has been married for 13 years, a source explained to Page Six that Trump Jr. has been traveling quite a bit, as he is in charge of the family business now, and that left Vanessa feeling lonely. The source said,
Don Jr. has been busy traveling, which has contributed to their problems. Vanessa is a devoted mother, but she is increasingly lonely and alone in the house with the children.
The source also expressed concern over some of Trump Jr. 's behaviors lately, noting that the eldest Trump son "appears to have changed recently, and friends are concerned about him."
Friends of Trump Jr. are reportedly concerned by his recent social media activity.
On March 2, Trump Jr. liked a conspiracy theory tweet that linked antidepressants to mass murder. The tweet came from Saturday Night Live actor Rob Schneider who wrote that, ""ALL THESE MASS MURDERERS WERE ON ANTI-DEPRESSANT DRUGS." Page Six's source also noted a pair of tweets Trump Jr. liked that attacked a survivor of the Parkland shooting.
Page Six reported that aside from Trump Jr.'s "odd" behavior, Vanessa also has an issue being under the Trump spotlight. The source explained that Vanessa doesn't like all the attention she and her kids have to endure because of Trump's presidency. The source said,
Vanessa is by nature is a very low-key person, and she is uncomfortable with the attention her family is getting now the Trumps are on the world stage. She is also worried for her kids, particularly after she received the threatening letter containing the white powder.
The source is referring to an incident in February when Vanessa was taken to the hospital after opening an envelope that came to their Manhattan home addressed to Trump Jr. It contained a threatening letter and white powder. It turned out not to be hazardous, according to NBC, but it was clearly frightening. Although it was a false alarm, the source told Page Six that, "It was terrifying for Vanessa, who is naturally worried for the safety of her children."
It can't be easy to be married into the Trump family. Of course the Trumps were always in some sort of spotlight, but nothing compared to the type of attention they've garnered since Trump moved into politics and took the Oval Office. Listen, most of us are probably not at all sympathetic to Trump Jr., but there are still kids in the mix. let's remember that, and all the best to them.