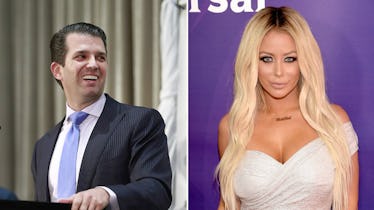 Donald Trump Jr Cheated On His Wife With An 'Apprentice' Star, Report Says
Jeff Vinnick/Getty Images News/Getty Images // Jason Kempin/Getty Images Entertainment/Getty Images
It looks like Donald Trump Jr. and Vanessa Trump's divorce battle might be a messier one than expected. According to Us Weekly, multiple sources have claimed that Donald Trump Jr. had an affair with Aubrey O'Day — Aubrey O'Day, as in the former Danity Kane singer and reality star. In fact, she reportedly met Trump Jr. on the set of Celebrity Apprentice in 2011 and began an affair with him that same year. You guys, this is scathing hot tea.
Representatives of O'Day and Trump Jr. did not immediately reply to Elite Daily's requests for comment.
O'Day reportedly met Trump Jr. during the taping of the show's fifth season and had an affair with him from the end of 2011 to March 2012, according to Us Weekly. A source who is reportedly close to the singer told the publication, "Things started up with Aubrey and Don Jr. toward the end of the taping."
Another source claimed that O'Day had been blindsided by Trump Jr., insisting that he lied to O'Day about the state of his marriage. The source reportedly said,
When it started, they were very serious all of a sudden. He told her it was over with his wife, that they were separated and he didn't love her — all of that stuff … Aubrey fell for him hard. She thought they were going to be together for real.
Us Weekly added that the alleged affair came to an end after Vanessa discovered emails between Trump Jr. and O'Day. However, an insider reportedly told Page Six that Trump Jr. told his wife he wanted to leave her for O'Day. The source said, "I think his marriage to Vanessa was over long before Aubrey came along."
Around the time of the alleged affair, the couple already had two children together, and Vanessa was reportedly pregnant with their third child.
My heart is damaged.
But the allegations aren't the first troubling details to emerge surrounding the Trumps' marriage.
Sources also told Page Six that Vanessa was treated like a "second-class citizen" by her husband. One source reportedly said, "He gives her very little help and has been keeping her on a tight budget. She doesn't live a lavish life and can very rarely pick up a check at dinner." A second source claimed that she had to borrow money from her mother at times due to her alleged lack of financial support. And another source claimed that the Trumps' relationship had been on the rocks since at least 2005. The source reportedly said,
She was interviewing divorce lawyers before [Trump's presidency]. No one thought he'd win. He won and she decided to stay until his term is over. But she just couldn't stand it anymore.
Later, a rep for Vanessa denied all of the claims, saying, "All of these claims are simply not true. Don and Vanessa have tremendous respect for each other and always have. The notion that she has had to rely on her family for assistance is absolutely false and utterly ridiculous." A representative for Trump Jr. did not immediately reply to Elite Daily's request for comment.
The most shocking thing about all of this drama is that it's only been four days since Vanessa filed for divorce.
On March 15, the Trump Organization shared a joint statement from the couple with Elite Daily to announce their split. The statement reads:
After 12 years of marriage, we have decided to go our separate ways. We will always have tremendous respect for each other and our families. We have five beautiful children together and they remain our top priority. We ask for your privacy during this time.
Apparently a lot has happened in those 12 years of marriage, according to all these sources, which leaves me wondering what tomorrow's headlines are gonna be. Hopefully, something positive.