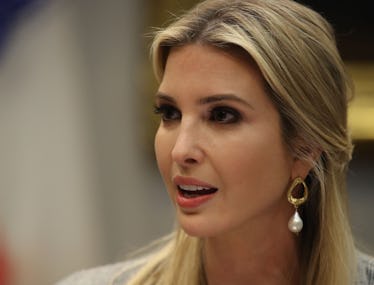 Ivanka Trump Put On A Science Lab Coat For A Picture & The Memes Were Unstoppable
Mark Wilson/Getty Images News/Getty Images
President Donald Trump's eldest daughter and adviser is in Iowa this week, and she got to play scientist for a day on one of her stops. She was invited to do an experiment with students at a learning center while in the state promoting her father's workforce development initiative. But her tour wasn't all roses, it turns out: a photo of Ivanka Trump as a scientist is getting no shortage of shade on social media.
"Incredible visit to Waukee APEX, a center where high paying jobs are seamlessly linked with motivated and highly skilled students," tweeted Trump on Monday. "Through hands-on learning and #WorkforceDevelopment the careers of tomorrow are being created today!" Per CNN, the first daughter toured the Waukee Innovation and Learning Center alongside Gov. Kim Reynolds and students of the APEX program. In the tour, she visited a classroom for robotics, tested e-cigarette liquid for nicotine content, and examined two-day-old zebrafish.
The photos show Mrs. Trump testing "vape juice" using a pipette and beaker, fully decked out with goggles, gloves, and a white lab coat. On social media, users didn't miss the opportunity to poke fun at the sight of the owner of her own eponymous women's clothing line getting her hands dirty.
Elle staff writer R. Eric Thomas tweeted a snipped of a scathing first-person parody he wrote for the magazine of Trump's day in the lab coat. "I love a theme so I can in high science drag," he joked, imitating Trump. "I was very ready to do the science!"
Even The Cut couldn't resist making a dig. "Ivanka Trump may not be qualified to serve in a presidential administration, but goddamn if she's going to let that stand in the way between her and a photo op," the outlet's handle tweeted.
But on a more serious note, Trump's photo op seemed to hit a nerve for some legit professionals.
"Hey @IvankaTrump it's great that you like to cosplay as a scientist on Instagram but some of us are an #ActualLivingScientist," tweeted a user named Holly who, per her Twitter bio, describes herself an a former NASA employee.
In a callout reminiscent of her mother-in-law's "Storm Heels" fiasco, another user blasted Trump over her choice of footwear.
"In this photo op, almost half of the people are not wearing lab appropriate shoes including you @IvankaTrump."
But her choice of shoes, science-appropriate or not, didn't seem to concern Trump too much. "I can't promise that I'll get this right, but at least we'll look the part, right?" Trump reportedly joked, per a pool report shared by Daily Beast reporter Lachlan Markay.
Another user joked about how easily Trump seems to throw on the uniform while she struggles not to feel like unqualified in her own job.
"Ivanka Trump's life is basically a reboot of The Simple Life: Interns," tweeted a user named Marie Connor.
Some users took a dark-humor direction in their captions and memes, imitating the first daughter.
"Here I'm mixing the blood, sweat & tears of poor children in my sweatshops who make my expensive perfume with my expensive perfume, because I love poor children, for all they do for me," tweeted one user who goes by Todd Matson.
Users were assumedly referencing backlash Trump received after a July 2017 Washington Post report that her workers making her clothes overseas were being grossly underpaid. "While Ivanka Trump branded products have not been produced at the factory in question since March, the integrity of our supply chain is a top priority and we take all allegations very seriously," Abigail Klem, president of the brand, said in a statement at the time.
"Ivanka Trump rationing out water for the Chinese children who work in her sweatshops," wrote one user.
The first daughter has also drawn criticism for her role in her father's administration, particularly as it pertains to equality in the workforce and career advancement. Though she has labeled herself a champion for women's rights, she's come under fire for not addressing the needs of average women. While her father directed millions in funding for STEM (science, technology, engineering, and math) last year, the younger Trump has been called out for complicity in his other policy areas.