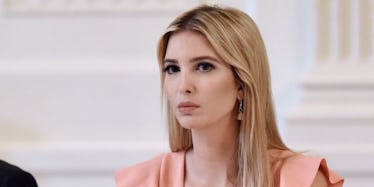 Ivanka Trump Shoe Factory Reported To Have Severe Worker Abuse In China
Olivier Douliery-Pool/Getty Images
Workers at a factory in China where Ivanka Trump shoes are made have allegedly faced beatings and verbal abuse, the Associated Press (AP) reported.
In one instance, a worker was allegedly left bleeding from the head after an angry manager hit him with the sharp end of a high-heeled shoe, according to the AP.
According to AP, the Huajian Group strongly denied all of the allegations.
In May, three men investigating conditions at the factory, known as Ganzhou Huajian International Shoe City, were detained.
The men work for the New York-based China Labor Watch, which has apparently been investigating the first daughter's suppliers in China for over a year.
They were accused of illegally using secret recording devices to steal commercial secrets.
The three men were reportedly released on bail on Wednesday, June 28.
Li Qiang, founder of China Labor Watch, told AP he's been investigating labor abuses for roughly two decades and claimed that conditions at Huajian's Ganzhou factor are among the worst he's ever seen.
China Labor Watch claimed to the AP that pay at the factory can be as low as a dollar an hour, which violates China's labor laws, and workers don't seem to get much time off -- two days or fewer per month.
What's more, workers allegedly don't get paid their full salary if they fail to meet the monthly production quota of shoes.
A single production line of 50 workers could be required to produce around 30,000 pairs of shoes per month, according to what a former and current employee told AP.
China Labor Watch also reportedly sent Ivanka Trump a video in May of a manager threatening a worker who'd arranged shoes in a displeasing way.
The video has not been released to the public, but AP claims to have watched it at China Labor Watch's office in New York.
In the footage, the manager can allegedly be heard yelling, "If I see them f*cking messed up again, I'll beat you right here."
When asked for comment, the Ivanka Trump brand referred to a statement from Abigail Klem, president of the brand. The statement says,
While Ivanka Trump branded products have not been produced at the factory in question since March, the integrity of our supply chain is a top priority and we take all allegations very seriously.
Elite Daily reached out to the Huajian Group for comment, but did not hear back at time of publication.