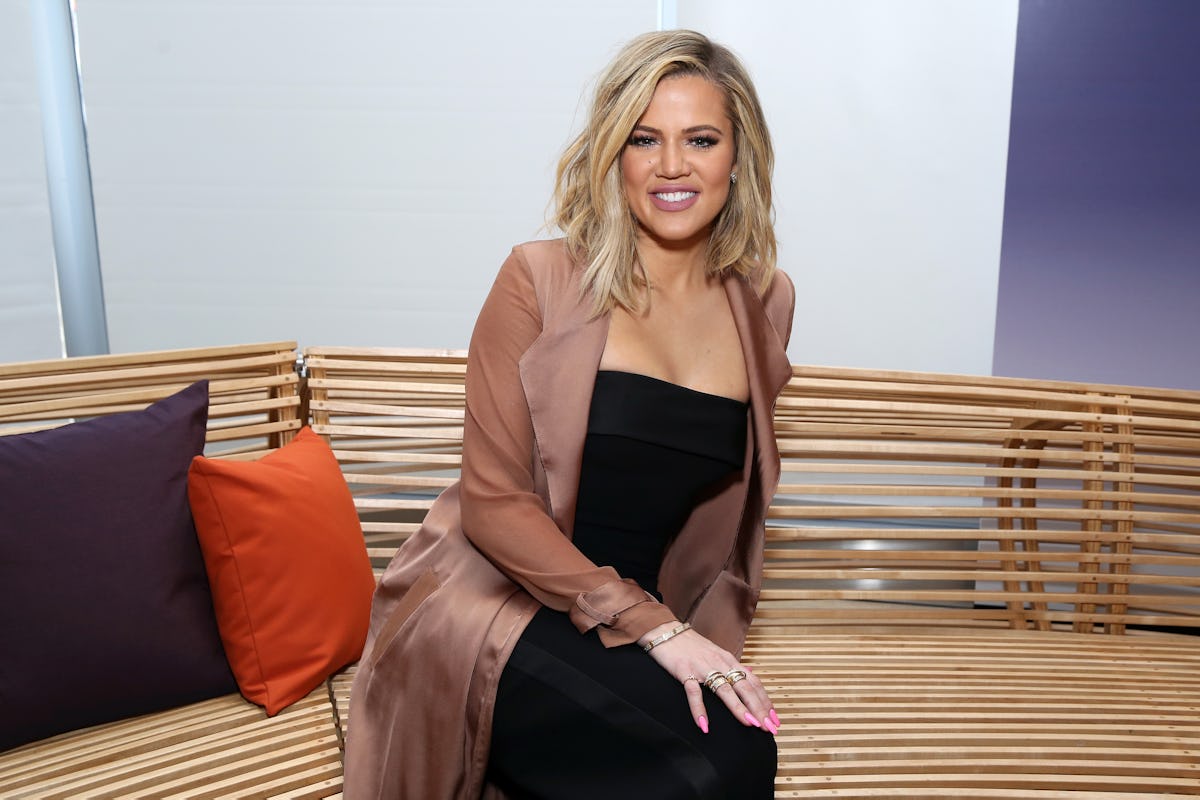 Tiny Detail In Kourtney Kardashian's Snapchat Fuels Rumors That Khloé Is Pregnant
Cindy Ord/Getty Images Entertainment/Getty Images
Good morning and welcome to another episode of Is Khloé Kardashian Pregnant Or Nah?! This week, fans are peeking in on her sister's social media account and looking for any details that might slip. This one clue from Kourtney Kardashian's Snapchat may prove Khloé Kardashian is pregnant, but then again, this entire family could also just be highly advanced robots and we're all living a lie every day. Who knows?! That's what makes it fun!
As you guys know, Kardashian is reportedly pregnant with boyfriend Tristan Thompson's baby. The news began leaking at the end of September 2017, and since then, we've all been losing sleep, spending our nights glued to our phones and technology devices waiting for confirmation. Shocker, it still hasn't come. Despite the certain onslaught of media attention Kardashian must be getting, she sure is doing a good job making us believe she doesn't seem to notice or care about the wild rumor mill working away. In fact, she is kind of feeding it.
KoKo has been keeping us on our toes, posting predominantly highly-edited pics or images from the waist up. But, every now and then she'll sneak in a full body shot (like her pics from Halloween or that blue mini dress from big sis Kim's baby shower) and the world freaks out. "Where's the baby bump?," we cry. "How can she be pregnant if her shoulders are that pointy?" some of us (me) wonder.
Most recently, in a series of snaps posted on Kourtney's account, Khloé is spotted highly filtered, as per usual, and very intentionally keeping her arms crossed over her midsection.
Take a look.
Exhibit A:
Exhibit B:
Exhibit C:
I have not one idea what they're talking about, because all I can focus on are those crossed arms.
Sure, is this totally wild and we're reading way too much into every little thing? Yes. Are we also just so, so, so invested in Kardashian's potentially growing family and it's all coming from a good (albeit semi-intense) place? Also yes.
According to Us Weekly, Kardashian and Thompson are reportedly expecting a baby boy. If he has the physical stature and size of his dad, that is going to be one big baby.
Fitness is obviously super important to both Kardashian and Thompson, and sources claim she is sticking to her workouts throughout her pregnancy. This could be part of the reason the public is having such a hard time noticing any physical changes to her body. According to the insider, "She's hungrier than ever," and is sticking to "smaller meals throughout the day."
Look, if I could look half as good not pregnant as Khloé Kardashian looks (maybe) pregnant, I'd be one happy woman.
Plus, let's be real. Thompson looooooves this woman. The two really do seem to have a rock-solid relationship, and the way they talk about each other is so, so sweet.
One of my favorites is the message Thompson left on his Instagram for Kardashian after throwing her a surprise birthday party. He shared the following image with the caption,
Happy bday my love, this picture right here sums up how wild, crazy and how much we love each other. Let's continue to build more memories and cherish them with each other. God bless you, I love you
If these two aren't on their way to parenthood... well then... I mean, I can't do anything about it, but I just really hope that they are.
Keep us posted, Khloé! We're out here.
Check out the entire Gen Why series and other videos on Facebook and the Bustle app across Apple TV, Roku, and Amazon Fire TV.