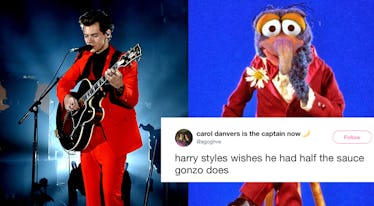 Fans Think Harry Styles Dresses Like Gonzo From 'The Muppets' & Honestly These Pics Don't Lie
Kevin Winter/Getty Images Entertainment/Getty Image; Disney–ABC Domestic Television; @agoghve/Twitter
Of all the strange and unexpected Twitter moments I've seen in my hours spent scrolling, the one to catch my eye this morning was a comparison I certainly didn't see coming. Nevertheless, I'm glad we live in a world where people are tweeting about Harry Styles dressing like Gonzo from 'The Muppets,' because it really is an important topic we need to discuss. There is photographic evidence that heavily suggests Styles and the Muppet in question share the same closet, or, at the very least, work with the same stylist.
Ever since departing One Direction and pursuing his solo career, Styles has really come into his own, and we've had the thrill of watching him experiment with both his look and sound. It seems he's finally settled on his signature OOTD, which at the moment usually consists of a brightly colored or patterned suit, with colors and patterns often clashing in a way that he somehow effortlessly pulls off. TBH, I always thought his daily uniform gave off modern-day David Bowie vibes, but of course, the world of Twitter is far more savvy than I, and dedicated fans have quickly determined that Harry's real style icon is none other than Muppet icon Gonzo the Great, who has also been known to step out in only the wildest of prints and most dapper of suits.
First came the accusations, complete with a lineup of some of Gonzo's best lewks:
Next, even the most stubborn of fans had trouble denying this cold hard proof:
Many pointed out that Styles wasn't only stealing Gonzo's style, but his signature, casual-lean pose as well. C'mon, Harry! Did you think we wouldn't notice?
In complete honesty, this comparison had never occurred to me before this morning, but now that I've seen the side-by-sides, it would be wrong of me to challenge it. It's cold hard fact: Styles is channeling Gonzo vibes, and didn't think we'd be wise enough to put the pieces together.
Be honest with me: Am I just supposed to stand idly by while Styles rips off this iconic red suit? How is this allowed? Hollywood is a cold, cutthroat place:
And I'm sorry, but if you honestly think Styles is pulling off this fully patterned look better than Gonzo, you're being biased:
Are you really willing to ignore that fedora tipped casually to one side? The intentionally clashing black floral tie and mustard floral shirt? The overall mustard color palette, which, as we all know, is so in for fall? Harry Styles is fab, but he could never — okay, maybe he could. But he didn't, he played it safe with a white shirt and pussy bow, and so Gonzo wins this round, yet again.
At first, fans began to speculate that Styles and Gonzo were actually one in the same:
But as the harsh reality settled in, many came to terms with the fact that Gonzo was the OG sharp dresser, and Styles is merely an immitator (Sorry, Harry, ILY):
TBH, I'm all for Styles channeling Gonzo the Great, as I have always felt that the world needed more patterned suits. Shout out to Twitter for bringing this conspiracy theory into the light of day, and here's hoping Muppets fans and Styles fans can join together in celebration of their shared love of a statement suit. Styles gets off the hook this time around for copycatting, but be warned: if he starts calling himself "Harry the Great," we're going to have a problem.