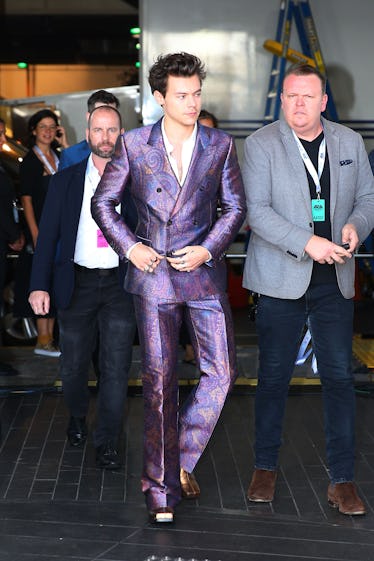 Harry Styles Poses With A Chicken & Dogs In His Gucci Campaign & It's Too Cute To Handle
Scott Barbour/Getty Images Entertainment/Getty Images
It's Monday, which is widely heralded as the worst day of the week. If you, like me, are in need of a pick-me-up, I've got you. Photos of Harry Styles' Gucci campaign — in which he stars alongside PUPPIES — will perk you right up and snap you out of your Monday slumps. I promise.
Let me preface this all by saying that I love Harry Styles. My adoration for him, however, is relatively new. I never listened to One Direction and honestly never understood the band's appeal but after seeing Styles on Saturday Night Live when he launched his solo career I was like, "What the F have I been missing out on?!" His style, his comedic chops (he was both the host and musical guest of his episode), and his voice are the things of my dreams—I am wholeheartedly and unabashedly hooked.
As an avid fan of Gucci myself, I've always been a fan of Styles' style (hahaha). He's worn floral and brocade suits by the Italian brand more times than I can count and has championed their heeled rainbow loafers on numerous occasions. (Yes, they're as good as they sound.) So when it was announced that he'd be fronting Gucci's newest campaign, I just about lost it. When I saw that his co-stars are dogs and one very lucky chicken, I went full-on berserk.
In the video for the campaign, Styles can be seen walking down a presumably London-based street with a red chicken tucked under his arm. (I would kill to be that chicken.) Dressed in a plaid coat, pinstripe suit, and red necklace, he looks every part the Gucci muse. He waltzes into a fried fish establishment, sets the chicken on the counter, orders food, walks out with his crispy meal sans-chicken, and leaves his feathered friend to peck around the restaurant. What's the point of it? I have no clue. But man, I am into it.
Still shots from the campaign show Styles posed in and outside of the same fried fish shot but accompanied by different animals and wearing different looks. In one, he wears a green shawl emblazoned with a cheetah while standing next to the scruffiest most adorably grandpa-esque dog you've ever seen outside of the fish show; in another, he's inside, grasping onto his chicken friend, which matches his high embellished velvet lapels.
In my personal favorite shot (if I wasn't currently traveling I'd print it out and stick it onto my wall à la 2005) Styles looks down at four dogs who are eagerly eyeing his greasy snack. One jumps up to lick his hand and harry, outfitted in a blue suit, giant glimmering brooch, and socks with sandals, looks on nonchalantly. Four dogs plus one Harry? Dreams, man.
As Gucci describes the photo and campaign on Instagram, "In a narrative sequence that echoes many famous photographs and scenes from British films, @harrystyles brings his pet chicken and dog into the fish and chip shop. He orders and shares it with the animals." I can't help but to think that Styles is the type of person who would actually do this in real life. He's too cute not to be an animal lover and too kind not to share with his fuzzy friends.
Well played, Gucci. I am financial eons away from being able to afford a Gucci anything but this campaign makes me feel like I absolutely need to save up for a Gucci something, even if it's a keychain or a teeny tiny bottle of perfume. Adorable, handsome, and stylish as all get out — this campaign is everything.