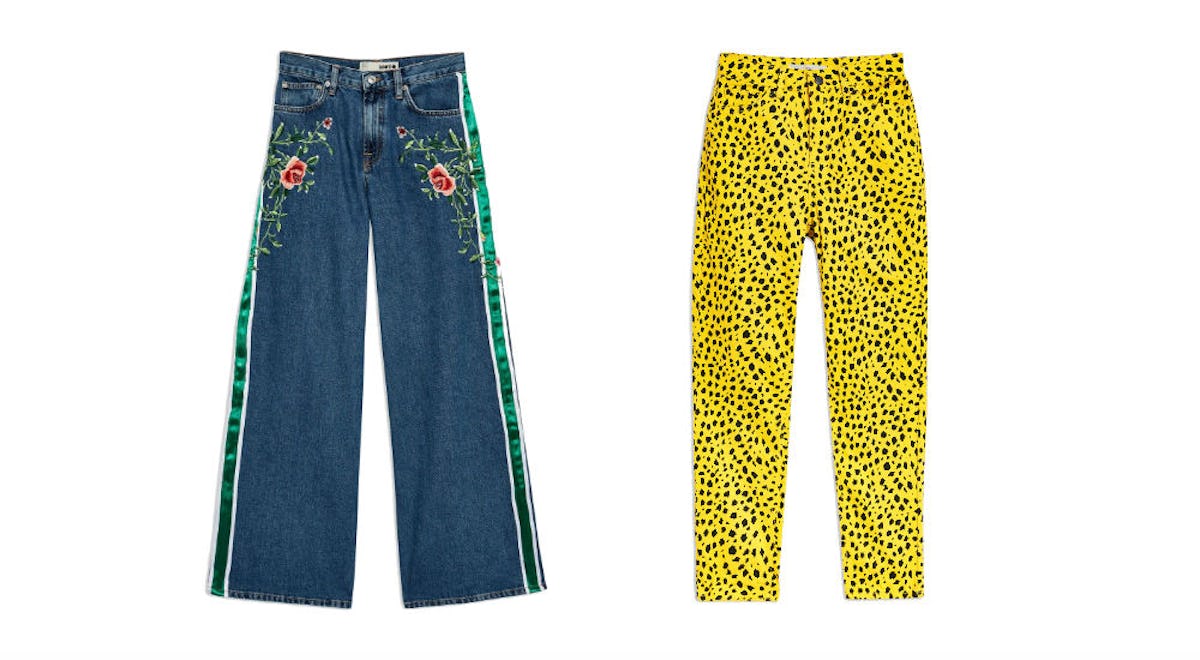 These Fall Denim Trends Are Brighter & Bolder Than Ever, So Ditch Your Plain Ol' Blues
Topshop
Bye, bye, cutoffs, autumn is right around the corner which means full-length jeans of all shapes, colors, and finishes are about to overtake your coveted top dresser drawer spot. Fall 2018 denim trends are so good you'll be itching to pack away your bikinis and pull out your chunky sweaters and patent booties, so get ready to go on a major jeans spree.
This year's trends include a few new silhouettes and cuts, but the most exciting ones are about color and pattern. Gone are the days when solid indigo in various washes reigned supreme — now, it's all about vibrancy, prints and a hodgepodge of washes. Five of fall's biggest denim trends are explained below, with shoppable options for each. There's only a month until the first day of fall (can you believe that?!) so you might as well get a head start on cozy clothes shopping now.
Slit Personality
This trend has slowly been gaining traction over the past few seasons and is perfect to pair with dazzling statement footwear. The hemlines of certain jeans, mostly of the flared and wide leg varieties, are getting dramatic slashes up their sides, allowing flashes of ankle and calve to peep through as they move. If you've got some ace new boots you've been dying to show off in a subtle and clever way, this denim trend is it.
Wild Things
I guarantee you're going to see animal print everything in pretty much every single fall fashion story of 2018. From dresses and coats to blouses and jeans and everything in-between, jungly prints absolutely dominated seasonal styles. They're not the tacky, Jersey Shore-type of prints, either. They're cool, refined, and 100 percent covetable, and are guaranteed to liven up any wardrobe, no matter your typical aesthetic. Start off with classic leopard prints jeans, a black knit top, and black booties for an easy and cool look.
Go Wide
Wide leg jeans have been experiencing a renaissance for a few years now (think of them as a toddler trend) but honestly they're the gift that keeps on giving. JNCOs paved the way for the style in the '90s, but it's now been elevated and fine-tuned to look less underground raver and more edgily sharp. I love pairing them with sneakers and a tight, long-sleeved crop top. 
Rainbow Brite
Colorful denim isn't just for summer and spring! From Canadian tuxedos to cropped jean jackets, to full length pants and everything in-between, fall styles are getting the rainbow treatment. As someone who sticks to muted and darker color palettes for fall dressing I'm not sure how strongly I'll embrace this trend. But if you're a master of color and think drab dressing plus drab weather sounds like the worst combo ever, this trend is for you.
Opposites Attract
Two-tone jeans are back and they're way better than ever. They've shed their Frankenstein-like appearance and have instead taken on a sleeker and more meticulous appeal. They'll serve as the statement piece of any look. So long as you've got some cool solid staples to pair with them, you're set.