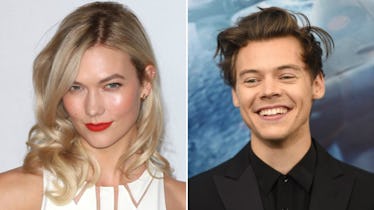 This Photo Of Harry Styles & Karlie Kloss Getting Lunch Has Taylor Swift Fans Freaking Out
Neil P. Mockford/Getty Images Entertainment/Getty Images | Jamie McCarthy/Getty Images Entertainment/Getty Images
Taylor Swift fans are up in arms over a photo of Karlie Kloss. Why? Because she's hanging out with Harry Styles, of all people. Swift enjoyed a brief romance with Styles from 2012 through 2013, and Kloss, of course, has been Swift's friend for years. So, naturally, a photo of Harry Styles and Karlie Kloss getting lunch is going to raise some eyebrows.
Even though rumors have been swirling for a while that Swift and Kloss had a falling out, fans are still holding out hope that they're BFFs. And this photo, which was posted by designer Diane Von Furstenberg, isn't exactly giving Swift fans the hope they need.
In the photo, Styles is sitting between Kloss and Von Furstenberg while all three enjoy a nice lunch. The trio appear to be on a yacht (fancy!) and they're all dressed in white. I wonder if that was the dress code for this luncheon. Could be!
"Glamourous lunch break," Von Furstenberg captioned the photo. It was posted to her Instagram on Tuesday, July 31.
Almost as soon as the designer posted the photo, fans started clamoring to the comments section to leave their two cents about the coming together of Styles and Kloss.
"I love Harry, I love Karlie, thank you for this," one Instagram user wrote.
And here's the photo of all three:
Another fan laid out the whole situation for everybody: "So basically Taylor and Karlie were like bff during 2014 2013 the time Harry and Taylor had something going on can you imagine all the things Karlie knows about Harry Styles," they wrote.
And, of course, there was some humor in the comments: "Are Harry and Karlie gossiping about Taylor???" a fan asked. "WE NEED THE TEA."
On the flip side, another user was totally perplexed about the public's reaction to the photo, especially since it's perfectly reasonable for Kloss and Styles to be friends (even if they do have Swift in common).
"I really don't understand why some people are reacting like this... why can't they be friends??" the fan wrote.
Fans on Twitter are also losing their cool over the photo of Styles and Kloss together.
The Styles and Kloss reunion photo has clearly sparked some fan speculation about what's really going on behind the scenes. I'm sure this was just an innocent lunch where the two gravitated toward each other based on shared history and/or friendships. But who knows? I could be way off base here.
In any case, it sure is nice to see them together!
Styles, who was once a member of One Direction, recently finished up solo his world tour. He's also newly single now that he has reportedly broken up with model Camille Rowe. Kloss, a supermodel, is newly engaged to Joshua Kushner. Needless to say, the two have a lot of things going on at the moment. By the looks of it, their lunch with Von Furstenberg was a great opportunity to relax and catch up with old friends. Everyone needs that from time to time!