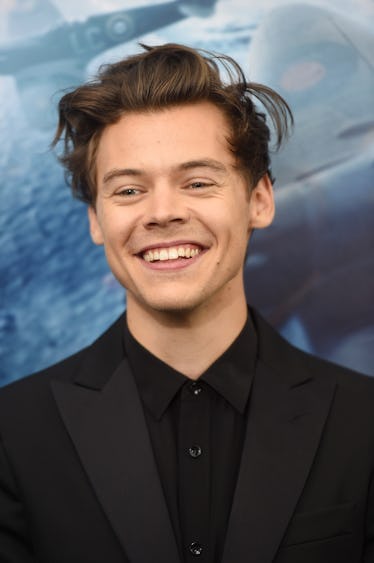 Harry Styles Said "We're All A Little Gay" At His Concert & Now I'm More In Love With Him
Jamie McCarthy/Getty Images Entertainment/Getty Images
It was already a well-known fact that Harry Styles is a proud LGBTQ ally, but certainly drove that fact home at his last concert. On Saturday, July 14, the 24-year-old singer took his message of allyship and equality to the stage at The Forum in Los Angeles. It was there that he proclaimed that everyone's a little gayer than they may know. Given his fame and incredible fan base, Harry Styles' comments about everyone being "a little gay" have certainly sparked quite the reaction from people everywhere.
According to a report by Huffington Post, Styles' proclamation came when he spotted a fan holding a sign in the audience. So, what did the sign say? Just a simple message: "I'm gay and I love you."
And that's when Styles responded with his now famous words.
"I mean, we're all a little bit gay, aren't we?" the singer said. As expected, the crowd went wild with cheers and applause.
Styles has often been outspoken about social issues, voicing his opinion on issues such as gun violence, the Black Lives Matter movement, and LGBTQ rights. The singer has been especially supportive of specific issues during his Harry Styles: Live On Tour, which ended on Saturday.
In a video captured by a fan, you can hear how much the crowd enjoyed Styles' response to the sign.
Needless to say, the fans are excited!
The social media response to this was just as powerful. Here's a look at what die-hard Harry Styles fans have been tweeting about the moment on stage:
During the course of the tour, Styles waved Pride and Black Lives Matter flags, as well as added an "END GUN VIOLENCE" sticker to his guitar.
He also took the time to ensure his fans felt supported, too. On Wednesday, July 11, Styles helped a fan named Grace come out as gay to her mom.
Grace captured the emotional moment on camera and posted it on Twitter. In her tweet accompanying the video, Grace thanked Styles for his support, writing,
Thank you so much for creating an environment where I am proud to be who I am," she wrote. "Your continuous support of the LGBTQ+ has helped me come to love myself and feel safe. Thank you for tonight and I can't wait to show Tina (my mom) this video. Love you always.
So, his comments about everyone being a little bit gay should come as no surprise. Even so, his fans were pretty enthusiastic about how open Styles is about his support of the LGBTQ community.
While Styles has often been the subject of intense speculation surrounding his sexuality, he's never quite confirmed whether he's part of the LGBTQ community himself. He has, however, sparked some talk with a song he released earlier in 2018 called "Medicine."
Here's a look at some of the lyrics:
The boys and the girls are here / I mess around with him / And I'm OK with it
Fans understandably regarded the song as an LGBTQ anthem. Although Styles never explained the lyrics outright or whether they apply to his life directly, fans have found a sense of comfort in them, which is wonderful to see.
It's so great that Styles is making room for LGBTQ discourse at his concerts and in his music.