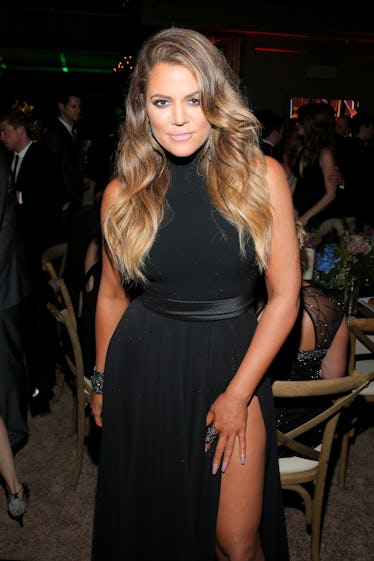 Fans Think Khloé Kardashian Just Revealed Her Baby's Sex On Instagram – UPDATE
Mark Davis/Getty Images Entertainment/Getty Images
Good morning and welcome to another day of Kardashian baby hysteria! Today, we're focusing on our girl KoKo's bun in the oven, and what a great day it is. The Revenge Body queen has been posting some mysterious posts lately, and these Instagram clues Khloé Kardashian is having a baby girl have fans freaking out. Hold on to your butt emojis.
UPDATE: On the Season 14 finale of Keeping Up With The Kardashians, which aired on March 4, Khloé Kardashian confirmed she's expecting a baby girl with boyfriend Tristan Thompson.
EARLIER: As you guys know, Kardashian and her boyfriend Tristan Thompson are expecting their first child together sometime this spring. The public spent months sleuthing for details and confirmation about the pregnancy (which first came in the form of a pregnancy pillow reflection), and then as an Instagram post by Kardashian herself.
Just before Christmas, she posted a gorgeous photo of her baby bump and the caption,
My greatest dream realized! We are having a baby! I had been waiting and wondering but God had a plan all along. He knew what He was doing. I simply had to trust in Him and be patient. I still at times can't believe that our love created life! Tristan, thank you for loving me the way that you do! Thank you for treating me like a Queen! Thank you for making me feel beautiful at all stages! Tristan, most of all, Thank you for making me a MOMMY!!! You have made this experience even more magical than I could have envisioned! I will never forget how wonderful you've been to me during this time! Thank you for making me so happy my love! Thank you to everyone for the love and positive vibes! I know we've been keeping this quite but we wanted to enjoy this between our family and close friends as long as we could privately. To enjoy our first precious moments just us Thank you all for understanding. I am so thankful, excited, nervous, eager, overjoyed and scared all in one! But it's the best bundle of feelings I've ever felt in my life!
Since then, she's been slaying the pregnancy game and letting the world in on her beautiful journey. Now, thanks to a few more posts on her Instagram, fans are CONVINCED she's having a baby girl.
On Feb. 6, Kardashian threw a gorgeous dinner party and the whole color scheme was PINK. Pink flowers, pink napkins, pink clothing, and perhaps the most tell-tale sign of all... pink fingernails. (Just like her little sister Kylie, who just had her own baby girl!!!)
I mean, look at this.
If we're going off of traditional rules, a party like this certainly doesn't say "it's a boy." It would also be weirdly coincidental for Kardashian to throw a light pink, springy dinner party in the middle of the winter. (Right? Isn't it more of a pinecone time of year? I don't know how decorating works.)
Plus, do you guys remember that pregnancy twinning photo of her and Kylie everyone was sharing? Weren't they bathed in pink lighting?!?!
We already know Jenner just delivered a beautiful little girl named Stormi. Maybe this picture was taken because they both knew they were having little girls!
God, I'm good at this.
If it's true Kardashian and Thompson are having a little girl, that would make their baby the third female to join the family this year. Kim Kardashian and Kanye West recently welcomed their new daughter, Chicago West, who is probably hanging out with her cousin Stormi right now.
No matter what, Khloé, we're so stoked for you. As usual, keep us posted.
Check out the entire Gen Why series and other videos on Facebook and the Bustle app across Apple TV, Roku, and Amazon Fire TV.