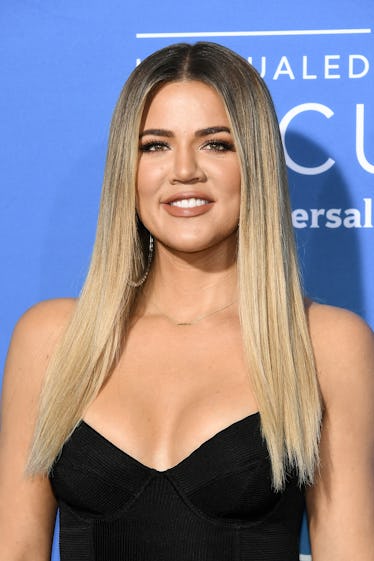 Fans Think Khloé Kardashian Had A Baby Shower Because Of These Snapchats
Dia Dipasupil/Getty Images Entertainment/Getty Images
There's no denying that Kylie Jenner owned the news cycle yesterday with the HUGE announcement that her baby's name is Stormi — which, despite the whole Donald Trump-with-a-porn-star thing, is actually pretty cute. But even news that major wasn't enough to let one of KyKy's big sisters slip under the radar. Because Khloé Kardashian's dinner party Snapchats and Instagram story had Kar-Jenner fans thinking that the currently-preggers workout queen was actually hosting a baby shower for herself!
Lemme break it down for you. See, the Revenge Body star had her entire fam over for dinner. No big deal, right? Except there were lots of flowers on the table. LOTS. Yes, I know the whole Kar-Jenner crew has a thing for sharing flower shots — Kim is STILL posting pics of florals gifted to her for baby Chi, and Kylie recently started doing the same. And now, since our girl Khlo-Money took to social media last night to share snaps of her dinner table set with a whole bunch of pink roses and other gorgeous florals that just so happened to be pink — as were the napkins and table runners — her fans are convinced the get-together was actually a baby shower, and that Khloé is having a girl!
So pretty, right? So what do you guys think? I am not usually one for conspiracy theories, as the Kardashians have proved time and time again that just when we think we know, we actually have no idea. But that didn't keep Khloé's fans from hitting up Twitter to share their thoughts about what they thought were serious baby shower and "it's a girl!" vibes.
Oh, damn! I didn't even notice the nails, but these guys both mentioned it! You can check them out here for yourselves, in this video from Khloé's Instagram story:
"Your table looks gorgeous," Kris says with a big smile on her face. "It's unreal here. It's really, really beautiful." Couldn't agree more — though Khloé happens to be rocking a pink jacket here, you guys. And is Kris' turtleneck pink, too? Also... check out that camera person over there in the background, just busy filming a regular old dinner party. Hmmm.
Of course, as speculation about the pink-themed dinner party started to spiral, Khloé hopped back on social media to issue a quick denial.
"I'm throwing a dinner party at my house with my family," she explained to her Snapchat followers. "We do this once a week. Sorry, guys, it's not my baby shower. Just a dinner party."
Fair enough. But then this morning, Khloé took to Instagram to post another shot of flowers — more stunning roses! — only this time, they were in a totally different shade of pink!
They definitely don't match KoKo's table decor. So could these gorgoous babies be a "congrats on your baby girl" gift from one of her sisters or her mama? I guess we can look forward to finding out on a future episode of Keeping Up With The Kardashians, thanks to that obtrusive little video camera!
Luckily, we've all gotten pretty good at waiting around for the Kar-Jenners to tell us things lately. Khloé is currently in her seventh month of pregnancy, but she didn't share the news with her fans that she was expecting her first child with BF Tristan Thompson for the first six months. And Kylie didn't tell us she was pregnant until after, you know, she actually gave birth. For a family that basically lives their lives on camera, this is all super-impressive. I imagine it's also pretty stressful, though, so can we please just give the pregnant mama a break now and let her live?
But P.S. Just in case it is a girl, the name Cloudi gets my vote.