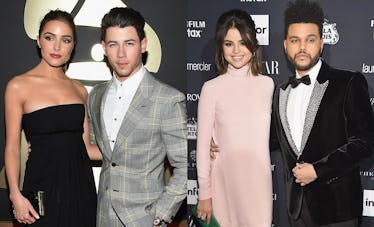 6 Celeb Exes Who Are Reportedly Not On Good Terms At All
Dimitrios Kambouris/Larry Busacca/Getty Images
I've never been one to remain friends with my exes. In my experiences, breakups have always been messy and have left me with zero interest in keeping that person in my life. I know I'm not alone here, seeing as there are plenty of celebrity exes who aren't friends anymore. It's hard to believe some of these couples just don't talk anymore, admittedly, because their relationships were once the center of pop culture attention, but life and times change, and celebrities don't talk to their exes just like the rest of us.
Some of these celebrity exes are amicable exes with their past baes. It is, of course, entirely possible for people to have a history together/no longer speak, but still respect one another. And then there are the more infamous celebrity breakups where the damage was so explosive and public that there was nothing left to salvage once the dust settled. Sometimes it's just better to cut all ties. Here are some of those celebrity exes who couldn't make being friends post-breakup work.
1. Nick Jonas and Olivia Culpo
Jonas and Culpo dated for two years before breaking up in June 2015. While they've said positive things about each other since their split (Culpo had kind words to say about Jonas' engagement to Priyanka Chopra), they don't seem to be in contact anymore like some exes (think Emma Stone and Andrew Garfield, who are still good friends following their split). This former duo is one of those examples of exes who probably don't have any bad blood, but still don't appear to talk anymore. Elite Daily reached out to Jonas and Culpos teams for comment on the status of their friendship, but did not hear back by the time of publication.
2. Taylor Swift and John Mayer
Swift and Mayer had a whirlwind relationship back in 2010. They didn't date for long and it seemed like more of an intense fling as opposed to a full-on relationship, but Swift's song "Dear John" is widely believed to be inspired by her brief relationship with Mayer and, in it, she sings about a bad breakup and lays the blame squarely on "John."
"Dear John" was one of the tracks off of Swift's 2010 album Speak Now. She told Yahoo at the time that the album is full of truths about her love life. "Every single song is like a roadmap to what that relationship stood for," she said, "with little markers that maybe everyone won't know, but there are things that were little nuances of the relationship, little hints. And every single song is like that. Everyone will know, so I don't really have to send out emails on this one."
The "Dear John" lyrics are intense and call out a man for hurting her 19-year-old, naïve self. Mayer all but confirmed in a Rolling Stone interview two years later that the song is about him, and that it "humiliated" him. "It made me feel terrible," he said. "Because I didn't deserve it. I'm pretty good at taking accountability now, and I never did anything to deserve that. It was a really lousy thing for her to do." No matter what the truth is, something bad seems to have gone down between these two, and they sure don't seem to be friends anymore. Elite Daily reached out to both Swift and Mayer's team for comment on the status of their friendship, but did not hear back by the time of publication.
3. Sophia Bush and Chad Michael Murray
The One Tree Hill co-stars got married in 2005 and were divorced by 2006. The worst part was that the show aired all the way until 2012, and the divorced stars remained on the show for most of its duration. Yeah, awkward. So it was a heavily documented breakup that Bush revealed to be "traumatic" in an open letter she wrote for Cosmopolitan in January 2017.
Bush and Murray got their marriage annulled just five months after they became Mr. and Mrs. They don't appear to be friends anymore and have moved on with their lives and careers, and Bush rarely talked about the drama in the decade following. In her letter in Cosmo, however, she opened up about it and said it was the result of her life blowing up so quickly after she finished college and was cast on One Tree Hill.
"When the person you're with asks you to marry him, you think: 'This must be happening because it's supposed to,'" she said in the letter. "I refuse to let that one relationship define me, which is why I've done my best to avoid discussing it for 10 years," she continued. "The reality is that, yes, it was a massive event in my life. And the trauma of it was amplified by how public it became." Yup! I think it's safe to go ahead and label these two as #notfriends. Elite Daily reached out to both Bush and Murray's teams and did not hear back from Bush's team by the time of publication. Murray's team declined to comment.
4. Brad Pitt and Angelina Jolie
This is one of the more recent bombshell celebrity breakups, and their divorce has reportedly been chaotic so far. After being together since 2004 after falling in love on the set of Mr. and Mrs. Smith, getting married in 2014, and raising six children together, Angelina Jolie and Brad Pitt announced they were splitting up in 2016. Jolie filed for divorce in September 2016 citing irreconcilable differences. She also requested full custody of their six children.
Their divorce was a bit of a mess at first, with Pitt reportedly being investigated by the Los Angeles County Department of Children and Family Services over an incident before Jolie filed for divorce that was allegedly "verbally abusive" and allegedly "physical." Elite Daily previously reached out to Pitt and Jolie's teams but did not hear back by the time of publication. The investigation reportedly concluded that pressing charges wasn't necessary, and Pitt and Jolie reportedly decided to keep their divorce as private and civil as possible for the sake of their kids after that. They had reportedly reached an agreement on Pitt's visitation rights when it came to the kids and issued a statement saying they would move forward "as a united front."
Then came the child support issue earlier this year. On Aug. 7, a filing by Jolie's lawyer said Pitt had allegedly failed to pay child support. By the time of the filing, she said in the document, Pitt "has paid no meaningful child support since separation." Pitt's lawyer denied the claims in a subsequent filing. It's hard to imagine any kind of friendship exists here now. Elite Daily reached out to both Pitt and Jolie's teams for comment on the status of their relationship and the details of their custody and child support legal proceedings, but did not hear back by the time of publication.
5. Selena Gomez and Justin Bieber
Justin Bieber and Selena Gomez were each other's sweethearts for almost a decade, their many breakups, reconciliations, and more breakups notwithstanding. Gomez and Bieber first got together in 2010, but weren't fully public with their relationship until 2012. Bieber told Oprah in 2012, "I don't ever want her to feel like I'm ashamed of her." So there they were: out and proud.
Just one month later, however, the Biebs and the Disney starlet broke up. She reportedly broke up with him, according to People, but their history wasn't over. They kind of, sort of, got back together in 2013, but that didn't last either. They got back together again in 2014, and then broke up again. Eventually, this on-and-off cycle ended for several years. Then Gomez started dating The Weeknd in January 2017.
When Gomez and The Weeknd broke up in October 2017, Gomez and Bieber reportedly got back together for one last flash of a relationship. Within months they had broken up, seemingly for good. Now, Bieber is engaged to Hailey Baldwin and Gomez is loving her single life, and there's no sign that they keep in contact. Elite Daily reached out to Bieber and Gomez's team for comment on the status of their relationship, but did not hear back by the time of publication.
6. Selena Gomez and The Weeknd
Gomez and The Weeknd were only together for about eight months. The Weeknd (whose real name is Abel Tesfaye) was reportedly not feeling great about the possible remaining connection between Gomez and Justin Bieber. Compound that with the pressures of his touring schedule, and the state of any relationship wouldn't be great.
Tesfaye reportedly broke up with Gomez over the phone in October 2017, and Gomez got back with Bieber not long after. Things were reportedly amicable between Gomez and Tesfaye post-breakup, until, that is, he dropped his album My Dear Melancholy, and seemingly called out Gomez with his track "Call Out My Name." Fans heavily speculated that the track's lyrics were all about his heartbreak over Gomez, basically saying he gave the relationship his all when she was still hung up on her ex. I wouldn't say a song like that merits the spirit of friendship. Elite Daily reached out to Gomez and Tesfaye's teams for comment on the status of their relationship, but did not hear back by the time of publication.