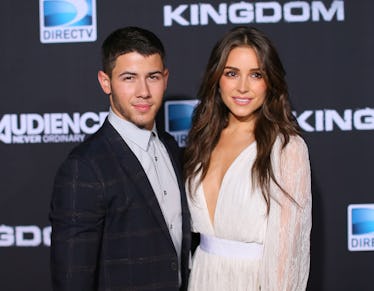 Olivia Culpo Said A Pretty Shady Thing About Nick Jonas & Priyanka Chopra's Engagement
Mark Davis/Getty Images Entertainment/Getty Images
Olivia Culpo and Nick Jonas had a pretty serious longterm relationship. In fact, it was his last serious relationship before his quick-as-a-flash engagement to Priyanka Chopra. Culpo has now spoken out about the engagement after keeping her opinion private throughout Jonas and Chopra's short courtship, and Olivia Culpo's reaction to Nick Jonas and Priyanka Chopra's engagement makes it's hard to make out how she feels. Is she throwing shade, or is she genuinely happy for him?
Culpo, who is currently dating NFL player Danny Amendola, was put on the spot about her ex's relationship status in an interview on PEOPLE Now on Sept. 4. "I think that any time anybody can find love," she said, "especially in this industry, because it's difficult, you can see there's a track record of things not working out, so I'm so happy for him." She continued, "I wish that everybody can find love and happiness. That does not mean that I would not wish that for him."
Her comment about the "track record of things not working out" seems like a bit of a foreboding comment, leaving room for speculation that she thinks Jonas and Chopra's relationship might not last. But who doesn't, truly? I'd be lying if I said I didn't think Ariana Grande and Pete Davidson, Nick Jonas and Priyanka Chopra, and Justin Bieber and Hailey Baldwin's relationships could fail at any second due to how fast they happened. The romantic in me thinks the whole "when you know, you know" thing applies to all of those couples' bonds, but the realist in me knows a relationship needs a solid foundation first, and I can't be convinced that that foundation only takes two months. Culpo's comments about her ex's engagement were overall positive, though, so props to her for commenting in a mature and supportive way.
Culpo and Jonas dated for two years from 2013 to 2015.
Marriage was apparently a conversation the two had, as Culpo thought Jonas was going to propose when he walked off the stage and sang right to her at the 2014 Miss Universe Pageant. (Culpo won Miss Universe in 2012.)
"I went down and sang to her and I got on a knee and approached her," Jonas said of the adorable moment. "Her face was in full panic. She thought I was going to propose on national TV in front of one billion people." Jonas didn't propose during the performance like Culpo thought he was about to, but she still said it was the best part of the night for her.
They both commented on their breakups following the split in 2015. Culpo posted on Instagram on June 19, 2015, saying,
Your heart just breaks, that's all. Heartbreak is hard but you find more and more things to be grateful for every day. One of those things is all of you. Thank you all. Yes I'm going to be okay and I love u guys so so much. every day is a blessing.
Jonas told Extra in June of 2015, "She's an amazing person. We had a great, beautiful few years together, but it's been a crazy couple months, and I wish the best to her for the future, but it's tough."
Three years later, and these two are doing their own thing and have moved on to new relationships. Jonas and Chopra's honeymoon phase is still in full force, and Culpo is slaying as always. Amicable exes much?