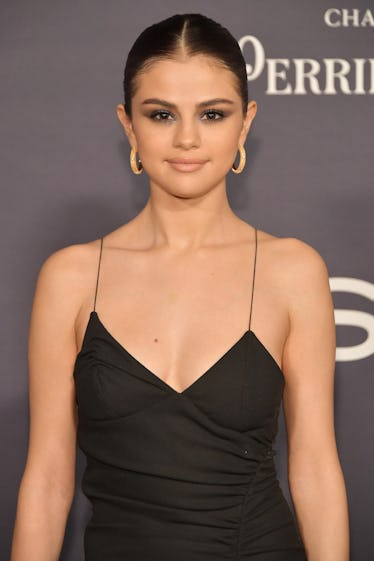 The Weeknd Is Reportedly "Upset" Selena Gomez Has Been Spending Time With Justin Bieber
Neilson Barnard/Getty Images Entertainment/Getty Images
With Selena Gomez and The Weeknd's sad breakup news comes the inevitable Justin Bieber connection. Are Gomez and Bieber getting back together? Since the exes were recently spotted together, it's only logical to believe that being in each other's lives again so suddenly must have something to do with the "Wolves" singer and The Weeknd calling it quits. Did Selena Gomez and The Weeknd break up because of Justin Bieber?
Here's what we can piece together so far.
Recent reports seemed to point to Gomez and Bieber just being on friendly terms, with one source noting (pre-breakup, that is) that The Weeknd "doesn't care" about the former exes hanging out. According to new reports, however, it would appear that perhaps The Weeknd wasn't so cool with the whole situation.
TMZ first reported that Gomez and Bieber were hanging out with friends recently, as Bieber was seen pulling into Gomez's driveway just 10 minutes after her. Other pics showed Gomez walking with a man but it was totally unclear whether or not it was Bieber.
The former exes were also spotted together at JOi Cafe on Oct. 29, which would have been shortly after Gomez and The Weeknd reportedly broke up. According to TMZ, Gomez and Bieber spent the day together, with photos showing Bieber arriving at her house later that night.
Naturally, there are a lot of Jelena feels in the mix here because seeing them together again is making people pretty nostalgic for this romance.
All of this time together, it turns out, isn't sitting so well with The Weeknd, as a source told E! News: "Abel is upset about Selena hanging out with Justin, especially twice in the same week."
Another source, however, is sticking with the whole friendzone story, noting:
Selena and Justin have reconnected because they have gone through similar stuff in the past couple years with being physically and mentally exhausted from touring and just dealing with the anxiety and pressure of growing up in the public eye. They have always had a strong connection, and they are leaning on each other as friends. They are both there for each other to talk and support one another.
While the timing of Bieber entering Gomez's life again seems to coincide pretty perfectly with her breakup, a source also told E! News that a Weeknd/Gomez split has been discussed for some time now:
It's been hard for them to come to the realization that this is the direction things were heading, but it's been hard for months. They have been open and honest about it and where they were going. Distance definitely played a factor. They are still talking and will remain friends. They have been very grown-up about it.
Though the timing seems more than coincidental, the insider further explained that The Weeknd and Gomez broke up before she and Bieber hung out and that there's "nothing romantic" between them.
Whether or not this split was amicable is unclear, though fans noticed that The Weeknd unfollowed Gomez's mom, her kidney donor Francia Raisa, and her assistant, though he still follows Gomez herself. He also deleted any posts referencing Gomez. You know things are dunzo when a couple removes all traces of their former boyfriend/girlfriend.
Fans are definitely divided, with comments like: "If Selena Gomez left the Weeknd for Justin Bieber I'm going to jump out my window" and "Selena Gomez and The Weeknd broke up and she was hanging out with Justin Bieber again and ALL IS RIGHT IN THE WORLD AGAIN."
Interesting times, for sure.
Check out the entire Gen Why series and other videos on Facebook and the Bustle app across Apple TV, Roku, and Amazon Fire TV.