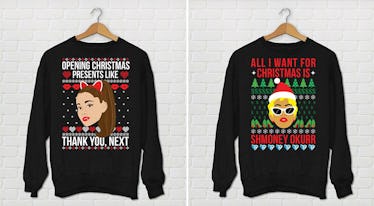 These Ariana Grande & Cardi B Ugly Holiday Sweaters Have Me Saying "Thank U, Next" To Anything Else
Is it just me, or are ugly Christmas sweaters getting less...ugly? TBH, a quick Google search shows me at least a dozen "ugly" sweaters I'd be thrilled to wear on an everyday basis — and the Ariana Grande & Cardi B ugly Christmas sweaters I found on Etsy are two perfect examples. Throw a fairisle pattern and a celebrity reference on a cozy sweatshirt and call it the perfect ugly Christmas sweater, because I'm about to buy as many of these babies as I can afford, and I plan on wearing them long after December runs its course. Viva la year-round ugly sweaters!
I know what you're thinking: Despite the fact that Ariana Grande has positioned herself as arguably the most iconic celebrity of 2018, she still isn't the first to come to mind when you think about holiday cheer. (In fact, that spot is typically filled by equally talented vocal goddess Mariah Carey, the unofficial queen of Christmas anthems.) Nevertheless, a desperate search for the perfect ugly Christmas sweater to rock at an upcoming holiday party led me to come across IdeasByArianna, an Etsy shop brimming with culturally relevant, celebrity-inspired sweaters.
In total, IdeasByArianna carries 31 products under their "Ugly Sweaters" category, but it was this one featuring Grande's latest hit single that really caught my eye:
Even if I wanted to, the thought of saying "thank u, next" to this ugly Christmas sweater seems impossible. It's perfection! Perfection, plain and simple. I need it in my life, and I will do whatever it takes to ensure my holiday season is spend with Grande's likeness emblazoned onto my loungewear.
Me to every other Christmas sweater on the market:
Okay, maybe not every other Christmas sweater. IdeasByArianna is out here giving us options, people! In fact, she's blessed us with not one, but two Cardi B-inspired ugly sweaters, and one is more perfect than the next.
This one, inspired by Cardi's love of making schmoney, is a great option to wear around relatives who don't know what to get you this year:
And this one is a clever holiday-themed interpretation on the lyrics to her hit song, "I Like It":
Me, getting dressed for all ugly sweater-themed holiday parties:
Seriously, what's more festive than supporting your favorite female singers by rocking their faces to all your holiday events? I can't think of anything more effective for getting everyone in the holiday spirit. And if Cardi or Ari aren't your faves, fear not, because IdeasByArianna probably knew she needed a less-controversial celeb on at least one ugly sweater, so she went with everyone's favorite rapper: Drake.
Sorry, Kiki, but Drake only has eyes for Santa now:
Seriously, I'm about to buy a different celeb-themed ugly Christmas sweater for every member of my family. Kudos to IdeasByArianna for her creative designs, and bonus points for including sizes small through 4XL so that everyone can get in on the fun. Should I size up and wear my Ari sweater as a dress with boots, the way she wears her sweatshirts? It feels like an appropriate and festive homage to me.